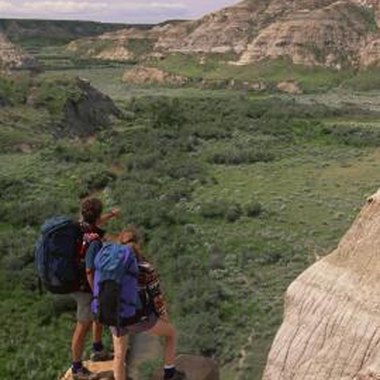 Camelback is a mountain contained within Big Pocono State Park, in Monroe County, Pa. Camelback Mountain, part of the Pocono mountain range, offers many hiking trails, as well as the Camelback Ski Resort, which contains 34 ski and snowboarding trails. Skiers, snowboarders, all-terrain vehicle (ATV) drivers, hikers, and mountain bikers can all find their place on Camelback Mountain, the highest point on the Pocono Plateau.
Camelback Skiing and Snowboarding
Camelback Ski Resort (skicamelback.com) has 34 trails and 15 lifts along the mountain's north face. These trails include two high-speed quads, a snowboard competition halfpipe and two terrain parks. Night skiing is available on all trails during the operating season. Snowboarding is allowed on all ski trails as well as in the progressive terrain park. The trails consist of 39 percent beginner runs, 26 percent intermediate, 9 percent advanced and 26 percent expert.
Camelback Ski Resort -- Hiking, Mountain Biking and ATVs
Camelback Ski Resort is open for skiing 100 days of the year, but hikers, mountain bikers, and ATV drivers can use the ski trails during the off-season. Hikers typically should stick to the beginner and intermediate slopes, as the advanced and expert slopes are extremely steep. The ski trails run along Camelback Mountain's north face, while the Big Pocono State Park trails traverse the eastern side.
Big Pocono State Park -- Indian Trail
Big Pocono State Park's trails offer 8.5 miles of steep and challenging hiking. Indian Trail is one of the most accessible trail options for hikers on Camelback Mountain. Indian Trail is known for its scenic overlook, providing a vista of the eastern cliffs and Delaware Water Gap. Indian Trail makes a 1.3-mile loop around the north, east and south shoulders of Camelback Mountain. Indian Trail also connects with South Trail. Bikes and horses are not permitted on the Indian Trail.
Big Pocono State Park -- North and South Trails
The North and South Trails in Big Pocono State Park extend down the eastern side of the mountain. The South Trail and North Trail's Lower Loop are open to hikers as well as horseback riders and mountain bikers. These are both challenging, rugged trails, so for an easier hike, try the South Trail upper loop.
Photo Credits
Jupiterimages/Photos.com/Getty Images