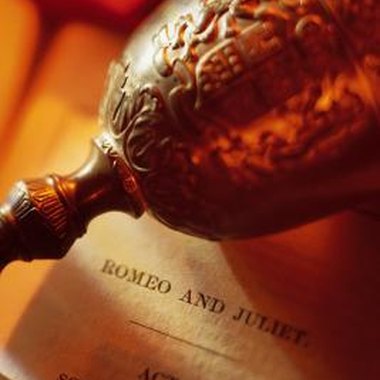 "Romeo and Juliet" is a play written by English writer William Shakespeare (1564-1616). The play was first published in 1597, and is based on an Italian tale that was translated into English during the 17th century. However, a tragic family event that occurred among two neighboring families of the Earl of Southampton, Shakespeare's patron, might have had some influence on the bard while he was writing the play.
The Earl of Southampton
Henry Wriothesley, third Earl of Southampton (1573-1624) was a controversial aristocrat during the reign of Elizabeth I in England. He was Catholic, openly bisexual and an avid supporter of the arts. Today he is most famous for dedications by Shakespeare in various sonnets. In 1594, the earl became directly involved in a bloody family feud when he hid two neighbors after they committed a murder.
The Danvers and the Longs
The Long family and the Danvers family were neighboring families in the county of Wiltshire. Both families had connections to the court of Elizabeth I, and both families were known to the Earl of Southampton, who resided in the neighboring county of Hampshire. In 1594, Sir John, the head of the Danvers family and a magistrate, convicted a servant of the Long family of robbery, which sparked a series of events with a tragic outcome.
The Conflict
The servant was subsequently hidden by the Long family, and the magistrate put the servant's master, Sir Walter Long, in prison. Once Walter Long was released, he and his brother Henry Long started writing abusive letters to the Danvers family. Two of the sons of the magistrate, Charles and Henry Danvers, took matters into their own hands and went to a meeting attended by the Long brothers at an inn. In an ensuing fight, Sir Henry Long was shot dead and the Danvers brothers fled the scene of the crime.
Resolution
Following the killing of Henry Long, the Danvers brothers were given refuge by the Earl of Southampton. The Earl helped them flee England and settle in France, where the brothers became distinguished soldiers in the army of the French king. Both brothers were outlawed and banished from England, but intervention from the French king and several aristocratic friends resulted in the lifting of the banishment and the brothers returned home in 1598. One year later, Charles was in trouble again, this time for conspiracy and treason, and he was beheaded. The younger brother, Henry, stayed clear of further controversies and had an illustrious career, first in the military and later at the court of Charles I. He died in 1644 at the age of 70. Sir Walter Long became High Sheriff of Wiltshire County, had 15 children with two wives, and died in 1610.
Photo Credits
Comstock/Comstock/Getty Images