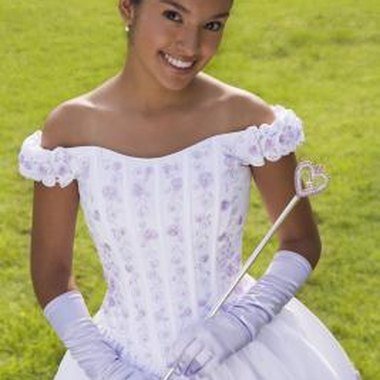 A quinceanera is an important rite of passage for a teenage girl turning 15 in Latin and Hispanic cultures. The guest of honor is expected to give party favors to her guests, particularly her court of honor and "padrinos," or godparents, who have helped to organize the celebration. Traditional favors should reflect the quince girl's personality and should serve as a pleasant reminder of this very special day.
Colorful Favors
The quince girl, or guest of honor for the quinceanera, can select favors that match the colors she's chosen for the actual fiesta. These shades should match her decorative style and are usually soft, feminine colors such as light pink, baby blue or lilac. The guest of honor's favorite color is often the main decorative hue, so it's also fitting to give guests hot pink compact mirrors or electric blue pots of lip gloss for the female guests and court of honor participants.
Edible Favors
Sweet treats are an impressive quinceanera party favor that will help guests remember the special occasion fondly. It's appropriate to bake cookies in the shape of the quince girl's first initial and ice them in the party colors before wrapping them in colored plastic and presenting them to guests. Or, purchase small tins and fill them with small chocolate or mint candies. Have the tins professionally engraved with quince girl's name and quinceanera date.
Photo Favors
A party favor that features the quince girl's picture as a baby, or a photo of her in her quinceanera dress is an item that will hold sentimental value for family members and close friends in attendance. Help the quince girl create bookmarks that feature a flattering picture of her, or purchase mini picture frames to feature the guest of honor's photo and present the favors to guests as they are leaving the quinceanera.
Table Accent Favors
It is often customary for the family of the quince girl to give guests accessories from the quinceanera table as party favors, so it's best to make sure the decorations are attractive and durable. For instance, short, scented candles in glass holders etched with the quince girl's name and quinceanera date make useful and fragrant favors. Or, fill decorative glass dishes with the quince girl's favorite dessert such as mini dulce de leche cakes, a traditional Mexican dessert.
Photo Credits
Jupiterimages/Brand X Pictures/Getty Images