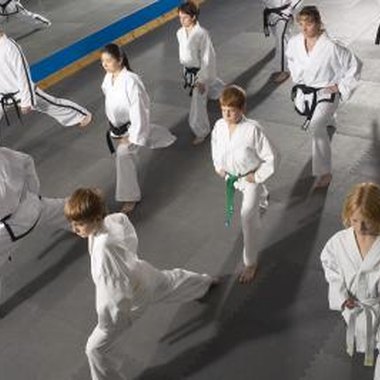 Martial arts is a highly disciplined sport that takes an enormous amount of dedication on the part of both the student and the teacher. Achieving a black belt is a significant milestone for the student as it denotes that they have garnered a significant honor for the work they have put into their sport. Giving a gift to either a student or an instructor is a fitting way to celebrate the occasion.
Gifts for Students from Friends and Family
If you have a younger student who has achieved a black belt through hard work and dedication, you can give them any number of gifts to mark the occasion, whether it is a gift card to a local store or eatery or even games. However, giving a gift that enables them to continue to record their progress will be appreciated as they grow as a person and a martial artist. A high quality belt rack, an engraved sword, or -- best of all -- a satin black belt with their name inscribed in traditional Korean text will be meaningful to the recipient.
Gifts from Instructor
Traditionally, there is no clearly designated gift for a black belt. However, some associations such as the American Taekwondo Association have their instructors give their students a candle and a special bar of soap that is made specifically for cleaning belts. The gifts are symbolic, as the soap sacrifices itself to clean the body and the candle sacrifices itself to provide illumination. Both represent how the instructor gives of himself to instruct his students. The candles are lit during the black belt ceremony to illuminate the dojo and symbolize the light of knowledge that has been passed on to the students.
Individual Gifts for Instructors
As a martial arts student, you know that paying your tuition and faithful attendance is only part of the equation. Teachers' dedication to their craft should be readily acknowledged by students who have received their black belts, especially since a black belt represents many months of close, personal instruction. Because most instructors are particular about their belts, it is best that a gift be given that they can keep in their office. A great present for an instructor is a geode pair which symbolizes how the instructor revealed the potential that you had hidden inside. Calligraphic items can also be very meaningful to an instructor.
Group Gifts for Instructors
Black belt ceremonies are involved and require a great deal of preparation. Usually, an instructor will make sure a ceremony has more than one student who is achieving their black belt in the name of practicality, as such ceremonies are usually scheduled on a day that the dojo is normally closed. If you are a member of a particularly large class or are part of a class that is the first to achieve black belts from your instructor, a group gift is appropriate. Typically, this gift is an engraved sword that the instructor can keep on display for years to come.
Photo Credits
Hemera Technologies/AbleStock.com/Getty Images