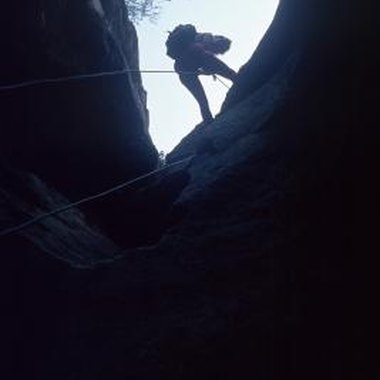 Devil's Icebox, a cave located in Missouri's Rock Bridge Memorial State Park (mostateparks.com), was named after the cool, breezy air that constantly flows through its underground channels. Known also for its double sinkhole and underground streams, Devil's Icebox is popular for sight-seeing groups looking to explore its caverns. Tours of the cave are typically given by park rangers, though certain restrictions apply, and tours are not always available to the public.
Caves and Wildlife
Devil's Icebox has at least seven miles of caves that have been mapped extensively. Filled with different tunnels and streams, the cave has large amounts of dripping water and impressive limestone rock formations. Another attraction (or deterrent) for some travelers is the wildlife in Devil's Icebox. Gray bats, an endangered species, live in Devil's Icebox during the summer months, roosting and raising young bats. Indiana bats also live in the caves during the winter. Additionally, these caves are the only area in Rock Bridge Memorial State Park where pink planarian flatworms live. Park rangers encourage those touring Devil's Icebox to respect the wildlife living within the caves.
Touring Overview
Rock Bridge Memorial State Park staff and rangers give "wild tours" of Devil's Icebox; private groups are not allowed alone into the caves. The park only offers these tours during the spring and fall, in order to protect bat populations. Groups or individuals can schedule tours of four different difficulty levels, A through D. A is the easiest tour, lasting three to four hours as guides take participants through two miles of relatively spacious passages. D is the most difficult tour, lasting upwards of 10 hours with intense climbing and crawling required.
Restrictions
Because many of these cave tours require intense physical endurance, many restrictions apply. The tour is only open to those who are 14 years of age or older, and any person under 18 must have written parental consent in order to participate. There are also restrictions as to how experienced participants must be, and Rock Bridge staff only offer C and D level tours to those with experience. A and B tours are open to all levels of experience, though participants must be physically fit.
Required Gear
Additionally, participants on any of the Devil's Icebox tours must have proper equipment. This includes spelunking gear like a battery-powered headlamp, water-resistant flashlights, knee-pads and high-traction footwear. Guests are also expected to bring backup batteries, lunch and snacks. The state park provides helmets, life jackets, canoes and paddles.
Reservations and Fees
Tours of Devil's Icebox are available through reservation only, made from one month to seven days before the start of a tour. Potential participants must call or visit the park office in order to make reservations; the park does respond to email attempts to set up a tour. Additionally, there are different fees for different level tours. At time of publication, A and B level tours cost $20 a person, C level tours cost $30 and D level tours cost $40. Additionally, Rock Bridge Memorial State Park reserves the right to refuse tours to unprepared participants without any refund.
Closures
Before trying to book a tour at Devil's Icebox, potential participants should check with the State Park to make sure that tours are still offered during a particular season. In order to protect wildlife that lives in the cave, Rock Bridge Memorial State Park staff has been known to suspend cave tours indefinitely. In the spring of 2011, the park closed off Devil's Icebox tours in order to stop the spread of a fungal disease fatal to bats living in the caves.
Photo Credits
Goodshoot/Goodshoot/Getty Images