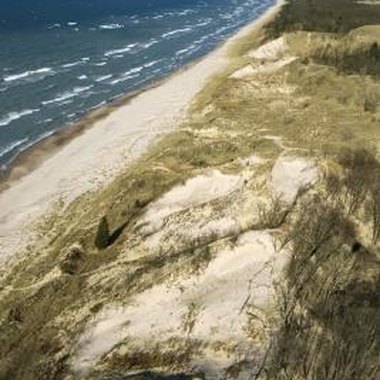 Visitors may be surprised to find more than corn in Indiana. Its northern border rests along Lake Michigan, making a host of water activities available in summer months. The Ohio River flows along the banks of southern Indiana, and provides a peaceful backdrop to cities and towns. Whether looking for a weekend getaway, or planning a whole week of exploration, you can discover numerous places for sightseeing and touring throughout the state.
Santa Claus, Indiana
Santa Claus is located in southern Indiana -- drive one hour east of Evansville. Each year, more than one million people visit the year-round Christmas town. Holiday World Theme Park and Splashin' Safari (holidayworld.com) are the main attractions, and they operate from May to October. Other places of interest include Santa's Candy Castle (santascandycastle.com), Santa Claus Christmas Store (santaclauschristmasstore.com), Santa's Stables (santas-stables.com), and the Santa Claus Museum (santaclausmuseum.org). Santa Claus is part of Spencer County, which also includes Lincoln City, where Abraham Lincoln lived as child. Lincoln City includes Buffalo Run Farm, Grill and Gifts (legendaryplaces.org/buffalorun), Lincoln Pioneer Village and Museum (lincolnpioneervillage.com), Lincoln Amphitheatre (lincolnamphitheatre.com), Lincoln State Park (in.gov/dnr), and the Lincoln Boyhood National Memorial (nps.gov).
Columbus, Indiana
Recognized for its architectural history and design, the south-central Indiana town of Columbus offers much to discover. Located 40 miles south of Indianapolis, visitors can explore the city on their own, or schedule a guided tour through the Columbus Area Visitors Center (columbus.in.us). Some of the highlights include the Miller House and Gardens (imamuseum.org/millerhouse), the Indiana Glass Trail (indianaglasstrail.com), The Commons (thecommonscolumbus.com), Atterbury-Bakalar Air Museum (atterburybakalarairmuseum.org), Mill Race Park at Driftwood River (in.gov/dnr), and Zaharakos Ice Cream Parlor and Museum (zaharakos.com). If you feel adventurous, explore Columbus on a bike using the People Trail. Extending more than 10 miles, the trail leads through several parks, and past notable architectural highlights.
Indianapolis, Indiana
As Indiana's largest city, Indianapolis is the state capital and hosts a variety of tourist attractions. Families might enjoy a day at the Indianapolis Zoo (indyzoo.com), the Children's Museum (childrensmuseum.org) or Conner Prairie Interactive History Park (connerprairie.org). Sports fans can tour the historic Indianapolis Motor Speedway (indianapolismotorspeedway.com), catch an Indianapolis Colts NFL football game at Lucas Oil Stadium (lucasoilstadium.com), or spend a day at Eagle Creek Park and Marina (indyparks.org). Other popular attractions include the Indiana State Museum (indianamuseum.org), Indianapolis Museum of Art (imamuseum.org), Broad Ripple Village (discoverbroadripplevillage.com), and White River State Park (inwhiteriver.org).
Elkhart, Indiana
Bristol, Elkhart, Goshen, Middlebury, Nappanee, Shipshewana and Wakarusa are the towns that comprise Elkhart County – also known as Amish Country in northern Indiana. The area offers everything from botanical gardens and parks, to golf courses and Amish farms, shops and restaurants. Highlights include: Heritage Trail (amishcountry.org), which extends 90 miles through Amish communities; Quilt Gardens, a patchwork of colorful blooms inspired by quilting designs; Amish Acres (amishacres.com), featuring the Round Barn Theatre; and NIBCO Water and Ice Park (elkhartindiana.org), which operates as a water park in summer and an ice skating rink in winter.
Photo Credits
Jupiterimages/Comstock/Getty Images