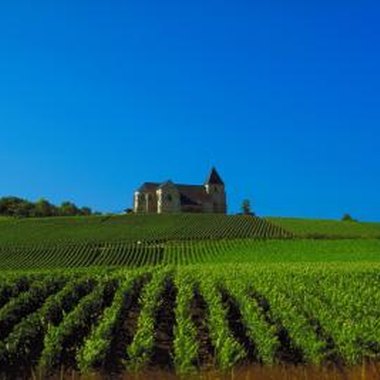 The regions of Ardennes, Marne, Aube and Haute-Marne make up Champagne-Ardennes in the north of France. The area is designated for the production of champagne and offers many champagne-related tours. Champagne-Ardenne is 90 miles from Paris, and it is worth the excursion with its many rivers and canal, as well as vineyards that stretch for miles.
Champagne and National Treasures
Tourists interested in champagne tasting tours usually visit the Montagne de Reims area, which is on the wine lover's itinerary. Epernay, a town south of Reims, is known as the champagne capital, and tours take groups underground to see how champagne is matured. Europe's biggest reservoir, Lac du Der (lacduder.com), is in Champagne-Ardenne, and it attracts tourists interested in bird watching, because it is an important migration route. Rivers such as the Seine, Marne and Aube are part of area's river tourism.
Famous Birthplaces
Charleville Mézières is the birthplace of Jean Nicolas Arthur Rimbaud, a renowned 19th century poet. The home where he grew up is the House of Elsewhere. The village of Colombey les Deux Eglises is where General Charles André Joseph Marie de Gaulle is buried. A museum in Haute-Marne offers a living history of the life and times of the former French president.
Historic Marvels
Langres is an ancient fortified town that has a 2,000-year history. Its ramparts, which have six gates, encircle the town. The well preserved defensive wall has seven towers that are appreciated for their architecture. The town is known for past residents Denis Diderot, a French philosopher, and Jeanne Mance, a noblewoman born in 1606. The town also boasts the Saint-Mammès Cathedral, the Langres Museum of Art and History, and the Navarre Tower, a Renaissance structure famous for its size.
Historic Structures
Castle of Sedan, Château-fort, Troyes Cathedral and Reims Cathedral are historic structures in Champagne-Ardenne. Tours are offered at the Castle of Sedan, which claims to be the largest castle in Europe. It was built in the 1400s and offers a replica of life in the Middle Ages in France. Troyes is a gothic cathedral built in the 13th century, and Reims is where the kings of France were once crowned.
Amusement
For a day off from learning about France and its history, tourists may visit Champagne-Ardenne's theme park, Nigloland (nigloland.fr). This is one of the biggest theme parks in France. The park is open from April to November and offers family, group and corporate packages.
Photo Credits
Jupiterimages/Photos.com/Getty Images