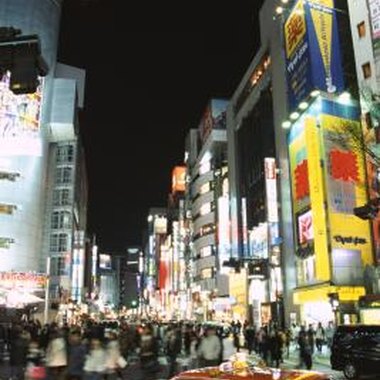 As Japan's most populated city, Tokyo offers countless tourist attractions. Whether your interest lies in shopping, partying, food, natural wonders, architecture, art or culture, Tokyo has enough variety to satisfy even the most jaded traveler. Explore what lies beneath the iconic city skyline to find enriching and memorable adventures.
Shibuya
Located in downtown Tokyo, Shibuya is one of the city's flashiest shopping districts. The area is crowded with department stores, clothing shops and fast-food restaurants. International fashion trends often make their first appearance in Shibuya. The district is characterized by high-rise malls and hotels and is attractive to youth, tourists and families alike. Shibuya is also a hot spot for the IT industry, making it a thoroughly modern area of the city, combining fashion, recreation and technology.
Tokyo Metropolitan Government Building
The Metropolitan Government Building takes the form of an impressive Tokyo skyscraper. The Japanese architect Kenzo Tange, who designed the structure, cites Notre Dame Cathedral as his inspiration for the building. It was under construction from 1988 to 1991 and cost a total of $1 billion. There are two observations decks atop the towers of Main Building No. 1 from which you can get a panoramic view of the city and, on clear days, catch sight of Mt. Fuji.
Asakusa
Asakusa, while a thriving downtown area, still retains many traditional buildings and streets and is the site of the famous Sensoji Temple. According to legend, in 628 two fishermen retrieved a statue of Kan'non, the Buddhist goddess of mercy, from the Sumida-gawa River and built a shrine to house it. Tourists and worshipers frequently visit the temple. The Sanja-matsuri, the festival of the temple, is a three-day celebration in May in which portable shrines, or mikoshi, are carried through the streets.
Ueno Park
Ueno Park district is another popular downtown area similar to Shibuya. However, it also contains Tokyo Ueno-onshi-koen Park, the largest park in the city. It includes Japan's first zoo, the Tokyo Metropolitan Art Museum, the National Museum of Western Art, the Tokyo Cultural Hall, the Tokyo National Museum and the National Science Museum. This park also features over 1,000 cherry trees that attract visitors in the spring with their pink blossoms.
Resources
"Lonely Planet Tokyo"; Chris Rowthorn; 2003
Photo Credits
Digital Vision./Digital Vision/Getty Images