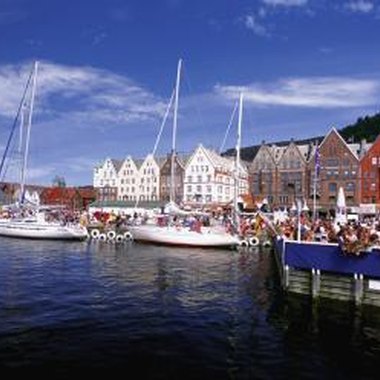 Distinguished as the largest port on Norway's west coast, and the second largest city of the constitutional democracy that is located in Northern Europe, Bergen offers visitors a full selection of tourist attractions. Situated picturesquely among mountains and fjords, Bergen allows tourists choices among water-based attractions or those found among the buildings in the heart of the city.
Museums
You will find a selection of museums in Bergen that educate tourists about artifacts based around a variety of themes. The basis of the Bryggens Museum (bergen-guide.com) lies in findings unearthed during archaeological excavations in Bryggen, the city's oldest area. It contains ceramics and artifacts that present a glimpse into life in the area during the Middle Ages. The Fishery Museum focuses on the Norwegian fishing industry. The Hanseatic Museum, with interiors dating back to the 18th and 19th centuries, contains weapons, furniture and equipment that show the insides of Hanseatic merchant establishments. Additional museums in the city include the Bergen Art Museum, Bergen School Museum, Theta Meseum and the ruins of the St. Catherine Church and Hospital, which are next to the Bryggens Museum.
Statsraad Lehmkuhl
The "Statsraad Lehmkuhl" (bergen-guide.com) is a three-masted barque sailing vessel and is also Norway's largest and oldest square-rigged sailing ship. Under the ownership of the Statsraad Lehmkuhl Foundation, the ship is under contract to the Norwegian Navy, schools, companies and others at times, and at other times is open to the public for cruises and tours of the fjord country. Tourists come aboard the vessel not just as observers, but as trainee sailors. You don't need professional sailing experience to enjoy this, as you will be complemented by a complete crew alongside you.
Bergen Aquarium
The Bergen Aquarium (akvariet.no), located in the northwest section of the city, is one of the largest in Northern Europe, and has both indoor and outdoor water tanks. Outside, you will find animals such as seals and penguins. Visit the aquarium's 70 indoor tanks, and adults and children can marvel at various sea creatures. The attraction's tropical section includes animals such as crocodiles, tortoises and marmosets, which are small, long-tailed monkeys that originate from Brazil.
Gamlehaugen
If you want a peek inside a mansion that is an official royal residence, and the home of the Norwegian King when he visits Bergen, take a tour of Gamlehaugen, which was originally built for former Norway Prime Minister Christen Michelsen, in 1901. Only portions of the magnificent dwelling, which is structured with French and Scottish architecture, are open to the public during the summer months. One of the rooms available to visit is Christen Michelsen's memorabilia-filled office. Gamlehaugen, which resembles a castle in its appearance, is framed by the trees and flowers of an English-landscaped park.
Photo Credits
Medioimages/Photodisc/Photodisc/Getty Images