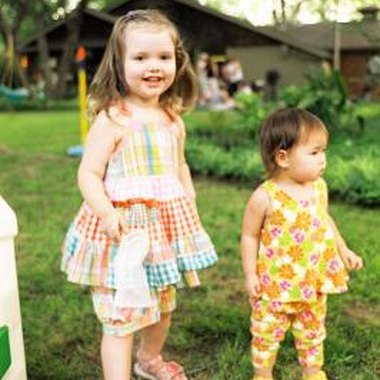 Toddler birthday party places in Toledo are not limited to national restaurant chains that specialize in kiddie meals. The area has a wealth of activity and places that are perfect for your tot's big to-do. Focus on activities to get little ones moving and exploring to ensure the best birthday experience.
Parks
The City of Toledo (metroparkstoledo.com) has thousands of acres of beautiful public park land and plenty of outdoor shelters to rent for your toddler's birthday party during warm weather. Book a party at one of the parks to allow your toddler to run around as much as she likes and play on playground equipment in a lovely setting. The parks department even offers special kids' party packages, such as the wigwam birthday, available from May through October, which allows kids to build and furnish a wigwam and make a craft. During cold months, the parks system rents indoor facilities ideal for your toddler's birthday party.
The Zoo
Most toddlers love animals, and the Toledo Zoo (2 Hippo Way and 2700 Broadway; toledozoo.org) is the perfect spot to celebrate an animal-loving toddler's birthday. See the animals and play in the discovery zone, complete with splash stream and tree house, then party in a private room. Party packages include cake, pizza, drinks, games, crafts, safari hats and souvenirs, rides on a carousel and even a visit from a costumed zoo mascot. Zoo personnel will also be on hand to make sure everything goes smoothly for your tot's special day. An extra-fee deluxe package, available from May through October, will get you a party pinata, T-shirt and rides on the zoo train.
Imagination Station Science Center
Another option for a toddler birthday party spot is the Imagination Station (imaginationstationtoledo.org), a science center in downtown Toledo. It features a place just for toddlers called Little Kid Space, a play area with a life-sized tree house, play hospital and grocery store. After toddlers climb, play and explore, they can move to a private party room for pizza and drinks. For a little extra, your party can enjoy a science experiment demonstration by an Imagination Station employee. No outside food is allowed except the cake.
Activity Studios
Get your toddler active at his birthday party by holding it at a place that promotes physical activity. Have a birthday party at a karate, dance or gymnastics studio. The Toledo Gymnastics Academy (1540B Holloway Rd., Holland; toledogymnastics.com) hosts toddler birthday parties and lets kids play on a soft obstacle course and enclosed trampoline and playhouse with a tube slide. Party packages include games, balloons and set-up/clean-up services. An academy hostess will lead your little one's party guests through games and activities.
Photo Credits
Jupiterimages/Photos.com/Getty Images