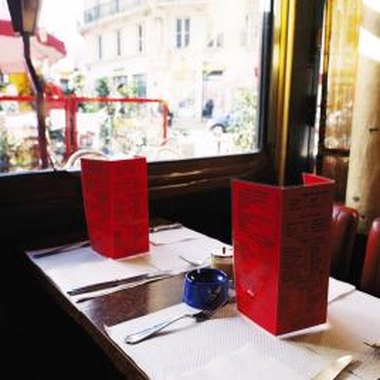 Thick or thin, plain or with pictures, napkins can inspire the imagination. While you're waiting for your food to come in some greasy-spoon diner, there's nothing better to do than let your mind wander and draw whatever pops into your head. Markers work best, as they have less tendency to rip the napkin, but pens draw well, and watercolors blend nicely. Some artists also like to rip or cut pieces of colored napkins and use them in craft projects.
Items you will need
Napkins

Markers

Watercolor paint

Construction paper

Frame

Wooden wine carrier

Mod Podge or decoupage medium
Freestyle
Step

1
Use your imagination and a pen, markers or water color paints to draw a freestyle drawing on a napkin. Avoid pressing hard which will tear it, and avoid using too much watercolor, or it may bleed excessively.
Step

2
After your napkin art dries, place it in a frame of the same size as the napkin. Place a piece of white construction paper behind the napkin to keep it in place.
Step

3
Hang your artwork up on a wall in your home so you can show it off with pride.
Wine Carrier
Step

1
Cut, or tear, some pictures from napkins. Many are embossed with all sorts of pictures, often vegetables, fruits or flowers, but other pictures can be found also.
Step

2
Cover a wooden wine carrier with Mod Podge or another decoupage medium, using a paint brush. Place the pictures from the napkins on the wine carrier. Overlap some pictures, if desired. Place pictures on the lid, if desired.
Step

3
Cover the whole wine carrier with a light coat of Mod Podge or other medium and allow it to dry overnight.
Tips & Warnings
Holiday napkins decoupaged on the wine carrier create attractive holiday gifts.

Lightly brush the decoupage medium over the napkins to avoid ripping them.
Resources
Photo Credits
Stockbyte/Stockbyte/Getty Images