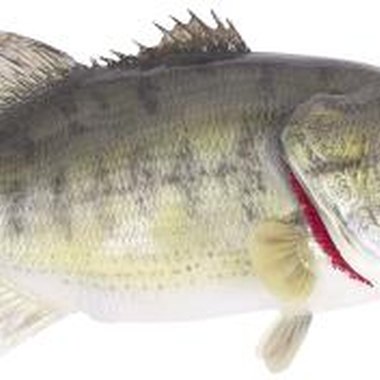 Neither saltwater or freshwater striped bass are native to Southern California. In fact, until 1973 the only place striped bass existed in the Golden State was in the waters around San Francisco. Shortly thereafter, in 1974, the California Game Department began stocking juvenile striped bass, along with other fish species, into the lakes and oceans near San Diego, Anaheim and Newport Beach. Today, the largest striped bass population remains in the north, but with a few tips, you can catch these tasty fish in the warmer waters of Southern California, as well.
Cast Near Predators
Limited visibility 300 yards offshore shouldn't keep you from spotting schools of striped bass. Look for areas of ocean where seagulls and seals are congregating, as these predators feed off schools of full of smaller baitfish, which also are the kind striped bass also enjoy eating. Cast your rod in and around these patches of schools to increase your chances of hooking a stripper. Continue baiting as you would normally to attract the largest striped bass.
Fish During the Population Peak
California striped bass spawn in the ocean between March and July, creating a species population peak from April until May. In Southern California, the Department of Fish and Game stocks both ocean and freshwater striped bass. Although the stocking dates roughly coincide with the natural spawning season, it's worth consulting the local Recreation and Wildlife Department for the approximate stocking date before heading out to fish. Note that while many lakes stock striped bass, naturally occurring freshwater striped bass spawn only in rivers with significant currents.
Weed Out Small Stripers
Depending on the time of year you're fishing, small, young striped bass can dominate the population. Because you didn't envision mounting a 1-foot striped bass on your wall, you'll need a hook large enough to exclude the smaller stripers. Cast a hook measuring at least half-inch between the point and shank so that it appeals only to larger bass. Bait the hook with anchovies or chunks of another small baitfish and cast away.
Account for Current
Striped bass feed off small baitfish such as sardines and anchovies. The location of these small, feeder fish changes quickly with the current's strength and direction. This forces the striped bass to relocate during a changing current as well, necessitating a variety of tackle. Larger, heavier tackle hooks striped bass swimming deep underwater during strong currents. Lighter tackle is advantageous during placid waters when striped bass swim closer to the surface.
Don't Forget the Freshwater Stripers
The lakes of Southern California boast robust populations of juvenile and adult striped bass. Lakes such as Lake Castaic, located in the Los Angeles National Forest, and Pyramid Lake in Los Padres National Forest include launching docks and campsites for recreational vehicles. Most lakes charge a fishing fee by time increments between a few hours to the entire day.
Photo Credits
Hemera Technologies/PhotoObjects.net/Getty Images