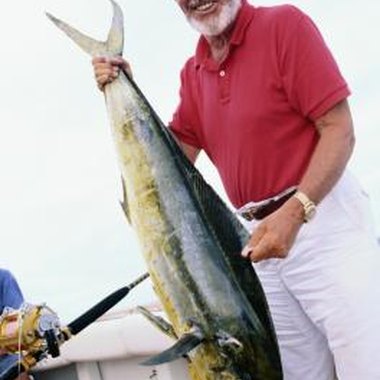 Hiring a fishing guide is a great way for fishermen unfamiliar with a new area or hoping to catch a trophy fish to get out on the water for a fun and successful day. Some fishing guides are on the water as many as 300 days a year and come with years of experience putting their clients on the fish of a lifetime. Tipping your guide shows your appreciation for his effort. Remember a few rules of thumb for tipping your guide the next time you head out on his boat.
Tip in Cash
"MidCurrent" magazine, says "cash rules" apply when it comes to tipping your fishing guide. Travelers' checks lose value when cashed and are inconvenient for guides who may keep a busy schedule. Cash can go straight from your hand into a guide's pocket as a token of your appreciation." MidCurrent" also notes that $40 to $60 per day is a generally accepted amount for tipping a fishing guide employed by a lodge in Alaska.
Tips Aren't Just About Bag Limits
When it comes to tipping a fishing guide, suggests the Saltwater Sportsman website, consider more than just the number of fish you caught. Even the greatest guides have tough days, and a box full of fish isn't the only service they provide. Spending time with a professional fishing guide can improve a fisherman's technique, especially when the guide is dispensing advice. Consider how hard the guide worked, how much fun you had during the day or what new things you might have learned when deciding how much to tip. Also, it isn't required, but it's nice to pack an extra lunch for your guide if you're bringing your own food.
Follow Your Instincts
Most guides don't fish for tips; they fish for fish. Helping their clients find and catch fish is the best way to guarantee that person becomes a returning client and spreads the word of their successful fishing day. There's no hard-and-fast rule for tipping your guide, so follow your instincts. A good rule of thumb is to view a tip of 15 to 20 percent of the total cost of the trip as a baseline for what you should tip. Just as in a restaurant where you receive superior service, tip beyond 20 percent for a guide who goes the extra mile.
Consider the Purpose of the Tip
Saltwater Sportsman points out that most guides consider the cost of a trip as their salary. Tips are an added bonus to help guides offset the costs to them of running a trip. Fuel, tackle, maintenance, insurance and food all add up as daily expenses that guides usually help to pay. A tip, even a modest one, offsets a little of these daily burdens and expresses your appreciation.
Photo Credits
Steve Mason/Photodisc/Getty Images