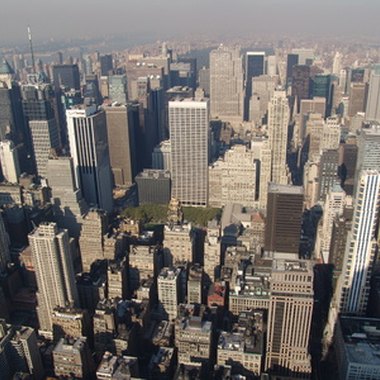 New York's Times Square has evolved from a run-down and dangerous neighborhood in the mid-1980s to a stylish shopping mecca in the 21st century. The area is filled with high-end hotels that regularly run upward of $300 per night, but those looking for a deal can find rooms below $200 per night that are clean, comfortable and safe.
The Hotel at Times Square
The Hotel at Times Square is a boutique property just steps from Times Square. Amenities include free wireless Internet, breakfast and morning newspaper. Guest rooms have flat-screen televisions and Nintendo video games. The hotel offers a 24-hour fitness center and a small 24-hour business center. A bar is located on site, but there is no restaurant. Regular rates are often higher than $200 per night, but frequent promotions drop the rate closer to $150, as of 2010.
Econo Lodge Times Square
Econo Lodge is a well-known budget brand, and the Econo Lodge Times Square offers basic amenities such as free wireless Internet and continental breakfast. The hotel also offers basic business services, including work desks in every room and a business center with copying and fax capabilities. The hotel is entirely smoke-free, and a cleaning charge is assessed to those who do not comply.
Distrikt Hotel New York
The Distrikt Hotel New York is ultra-modern and quintessentially New York. Design elements in the sleek skyscraper include a collage of some of New York's most recognizable neighborhoods and a 12-foot living wall modeled after Central Park. Amenities include plush bedding, designer soaps and a restaurant that depends heavily on locally sourced ingredients. The hotel offers numerous packages that add value while lowering the price per night.
Special Considerations
Times Square has undergone extensive renovations and has a constant police presence, making the neighborhood relatively safe. Nonetheless, it is in the middle of Manhattan, so use common sense precautions when leaving the hotel. Avoid walking around alone late at night, do not display large amounts of cash and keep a tight hold on any bags you are carrying. Follow basic precautions inside the hotel as well, including keeping your room door locked at all times and stashing valuables in the in-room safe or storing them at the front desk.
References