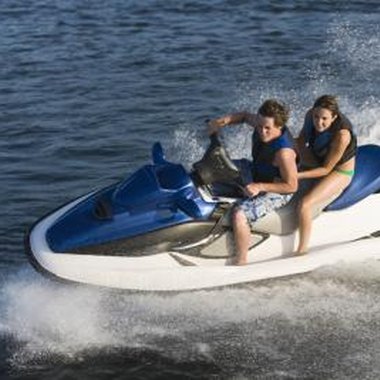 "Tigershark Jet Ski" is a common misnomer in the same way that "Rav4 Jeep" is. This is because both Tigershark and Jet Ski are a make of personal watercraft by manufacturers Arctic Cat and Kawasaki, respectively. Tigershark is a lesser known brand of personal watercraft than the Jet Ski, SeaDoo and Waverunner, which have defined the industry.
Production
The parent company, Arctic Cat, produces a range of recreational vehicles including motorized sleds, ATVs and side-by-side buggy style vehicles. As of August 2011, the Tigersharks bought and sold on the market are all used and antiquated watercraft. The last line of Tigersharks were produced in 1999, ending the six-year stint of Arctic Cat's entry into the personal watercraft industry. As it has been twelve years since anyone has bought a new Tigershark, there is diminishing access to information on the vehicles, particularly in the form of reviews and maintenance.
Emissions
The personal watercraft industry came under fire by emissions and environmentalist groups at the turn of the century. Unlike other motor vehicle industries, which have long been regulated by emissions guidelines issued by the Environmental Protection Agency, Arctic Cat and other personal watercraft manufacturers produced vehicles in the gray area of recreational vehicles. During the 1980s and 1990s, Tigershark emissions were less than ideal. This changed when EPA laws caught up with the relatively young personal watercraft industry. In 1999, the Tigershark TS1100Li ushered in a line of Tigersharks that used engine technology that offer acceptable emissions as well as quieter engines.
Arctic Cat and Tigershark Makes
Since 1993, Arctic Cat has evolved the type of names used to identify Tigersharks, which makes used models difficult to place in the seven year production time line. Early in the history, "Tigersharks" were presented to the market as an answer to "Jet Ski" and "Waverunner," two names that became synonymous with personal watercraft. In 1994, Tigersharks had models called "Barracuda," "Monte Carlo" and "Daytona." The practice of phonetic names ended with the 1998 line when makes were differentiated by a combination of letters and numbers such as the TS1000L, which replaced the Monte Carlo 1000 from the previous year. Before and after the switch, the number was an indication of engine size and power. For instance, the TS1000L had a 1000 cc engine.
Pricing: Then and Now
When first released in 1999, the TS640 Tigershark model had a suggested retail value of just under $4800, which was on the low end of the personal watercraft scale, and sported a 639 cc engine size, the smallest obtainable. As of August 2011, however, you can expect to pay under $2000 for the most powerful in the line of Tigershark models ever made. Depending on the condition and engine size of the Tigershark you find, the price may be much less.
Photo Credits
Jupiterimages/Comstock/Getty Images