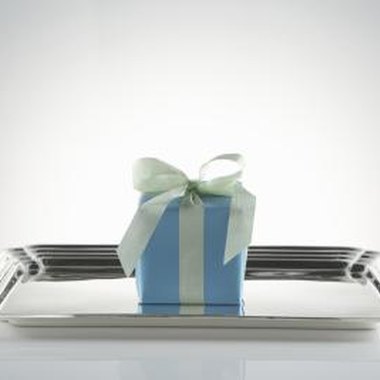 The Tiffany and Company brand is famous for its high quality jewelry workmanship and pretty blue and white-ribboned boxes. Whether or not it's considered a "must have" by the bride, or a "must-dream about," the Tiffany brand means "wedding" in some minds. Pay homage to the famous jeweler at the bridal shower by mirroring the color scheme or the bejeweled and glittery reputation.
Color-Coded
The Tiffany powder-blue box is an icon amongst shoppers with champagne tastes, so focusing your Tiffany bridal shower on this color theme is essential. Set the tone with the party invitations in blue with white ribbons and encourage guests to wrap their gifts like the Tiffany--styled treasures they are. Cover tables with light blue linens, white cloth napkins and plates, and top off with a Tiffany box replica cake. Use large hydrangea blooms in blue with white roses to decorate tables and serve lots of blue-colored adult beverages.
All Bling
Make a bridal shower sparkle when you use fake diamonds, white lights and iridescent glitter. Cover tables with Tiffany-blue linens then go all out with the "bling" by littering table tops with fake diamonds, glitter and sparkly confetti. Hang strings of white lights and chandelier-like glass beads from the ceilings to create a rich look. Fill a clear glass bowl with mini-white lights and strung glass crystals to glimmer on a gift table, and surround it with white ribbons and silk streamers. Place large fake candy diamond rings at each place setting along with Tiffany-blue party favor bags filled with edible glass candy. Order a cake that resembles a large diamond ring or top frosted cupcakes with toy diamond rings.
"Breakfast at Tiffany's"
Even brides who haven't seen the classic Hepburn film recognize the title and connect it with the gorgeous black dress and diamonds made famous in the 1961 movie. Pay homage to this iconic image at a bridal shower by using movie posters to decorate the party room. Make the theme clear on the shower invitations by using images of Audrey Hepburn in her tiara and black gloves, then dress the room to mimic this motif. Cover tables with black and white linens then sprinkle fake diamonds around serving platters and the gift table. Add a pop of color with Tiffany-blue colored wrapped boxes to hold party favors.
Gems of Marital Wisdom
Good advice is worth its weight in gold, and a bride is reminded of that fact when it is written on Tiffany-blue paper. Send some blue note cards to guests along with the bridal shower invitation and ask them to write their very best advice on having a good marriage. Once guests bring the cards to the party and read the advice to the bride, tie the cards in white ribbon as a Tiffany inspired keepsake of the event. Mirror the blue note cards with a Tiffany-blue guest sign-in book and blue party room decorations.
Photo Credits
Thomas Northcut/Photodisc/Getty Images