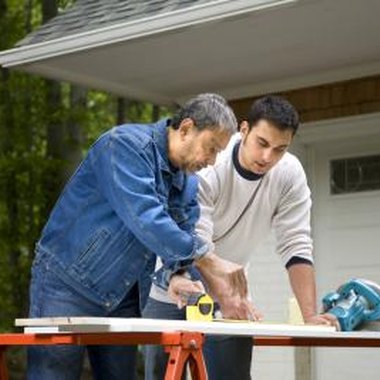 Whether you've bought a new house or condo or are updating an existing residence, it can be entertaining to include friends and family in your renovation process. Throwing a renovation party is a good way to get all your loved ones involved, but be realistic about your expectations of what can get accomplished. Re-tiling a bathroom or building a new roof is much harder work than painting a few rooms or installing new kitchen and bathroom light fixtures, so restrict your planned renovations with guests to ones that can be finished in one evening or afternoon.
Items you will need
Craft paper

Pen

Envelopes

Stamps

Construction tools and equipment

Food

Drink
Step

1
Design renovation party invitations to send to your guests. These invitations can be made with tool-patterned paper from a craft store and can be decorated with drawings of construction hats and paint brushes or photos of your house. Choose your invitation wording carefully, as you don't want guests to feel like all you want is free help. Good wording may include: "We're renovating our home and would love to include your touch in the process! You mean a lot to us, and we want our house to do so as well."
Step

2
Assess the projects you'll be instructing guests to undertake. Arrange the tools and supplies you've purchased beforehand where they will be used throughout your home. For example, if a certain number of guests are going to be painting one room, arrange the correct amount of paint brushes, paint and rollers in that area. Don't forget to provide protective wear for guests to use, such as painting masks and eye goggles.
Step

3
Prepare your work spaces before your guests arrive. This may include moving furniture out of rooms, taping around windows and doorways, sweeping, installing protective covering on floors or washing walls. Your guests are coming to help renovate, not prepare to renovate, so save time before your party starts by arranging accordingly.
Step

4
Create festive place cards adorned with each your guests' names and write which project you want each guest to assume on the back of each corresponding place card. Display these cards on a table near the front door. As guests arrive, encourage them to find their name cards on the table and see what they'll be doing for the celebration.
Step

5
Play music in the background during all your planned activities and provide festive food and drink to your guests. This food may include themed cupcakes, beverages served in thermoses and sandwiches served on tables made out of sawhorses and boards. You want your event to feel like a party and not an excuse to get friends and family to do hard work, so keep music and food on hand as a way to lighten the party mood. Do not serve alcoholic beverages until after your projects are finished. Guests who have been drinking tend to make mistakes. You don't want to spend more money having professionals come in to re-do poorly done work than you spent on equipment and supplies for your party. When all projects are complete, bring out the alcoholic beverages as a reward for everyone's efforts while you all take a rest. This is also a good time to serve a dessert or another round of snacks.
Photo Credits
David Sacks/Lifesize/Getty Images