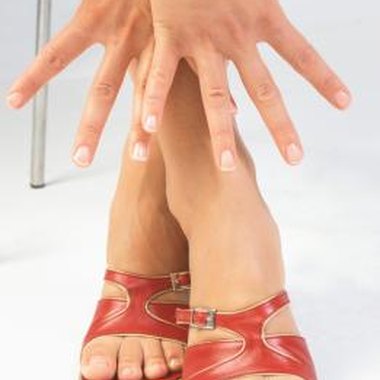 If you love being pampered, or you're hosting a celebration for a loved one who enjoys being beautified, a mani-pedi celebration is a relaxing and stylish idea. The party allows you to give your guests the royal treatment, and you can even send loved ones home with items that will help them maintain their manicures and pedicures.
Items you will need
Invitations

Spa reservations

Nail polish

Nail files

Nail clippers

Body scrub
Throwing the Party at a Spa
Step

1
Call your favorite local nail spa, and let the attendant know that you're planning a mani pedi party. You'll likely receive directions on how to fill out an application to the nail shop, stating when you want to have the party and how many people will attend.
Step

2
Tell the spa employee the proposed date for the party to see if the day and time you want is available. If your original date isn't available, work with the spa attendant to come up with a date that will work.
Step

3
Talk to the spa employees about time constraints. If you've invited a large group to the nail shop for the party, it may be best to only offer manicures in the interest of time. If you know some of your guests would prefer customized treatments, such as a 10-minute massage or exfoliation with a pedicure, factor this into the party time as well.
Step

4
Provide the spa with your credit card number (or actual card if you come to the spa in person) to pay for all party services.
Step

5
Create or purchase invitations, and send them to guests right away after confirming the party date. Get ready to relax and enjoy the party!
Throw a Home Mani Pedi Party
Step

1
Compose a guest list filled with family members and close friends who would enjoy a party where manicures and pedicures are the theme. Choose invitations shaped like hands or feet to send to each party-goer.
Step

2
Ask each guest to bring their favorite shades of nail polish, so everyone will have several colors from which to choose.
Step

3
Purchase large plastic tubs to fill with water for pedicures, along with small towels in the colors of the party for guests to dry their hands and feet after their "treatments." Buy cotton balls and nail polish remover so guests can take existing polish off their hands and feet at the event before adding new color. Create a body scrub for hands and feet with olive oil, sugar, sea salt, and an aromatic oil like lemon or lavender. This gives your guests the spa treatment and makes the hands and feet soft and supple before polish is applied.
Step

4
Purchase spa-type foods for everyone to enjoy, like fresh fruit platters with gourmet cheeses along with mini cucumber sandwiches, and mineral water garnished with lemon or lime.
Step

5
Send each guest home with a party favor bag filled with items that allow them to continue the mani pedi party at home. Include a mini nail file, nail clippers, a mini bottle of nail polish in one of the party colors, and a travel-size bottle of nail polish remover.
Photo Credits
Hemera Technologies/Photos.com/Getty Images