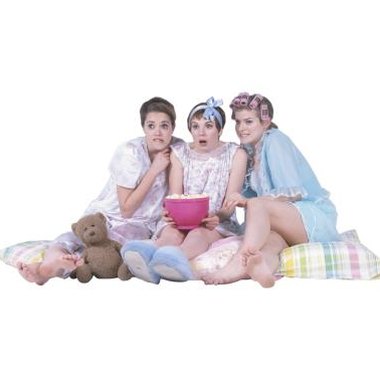 Your teen's cell phone bill may be your idea of scary, but a movie party for a teenage horror movie fan will be a blast for party guests and even parents. A night of horror movies, snacks, friends, scares and laughs is a fabulous way for a kid to turn 13. Make it an all-nighter by having a slumber party so the fun won't have to stop. Games, food and comfortable seating are a must for your teen's horror movie party. Set the mood for some scares by going all out with decorations to fit the theme.
Step

1
Decorate the party area with creepy decor. If the party is anywhere near Halloween -- or you plan in advance enough to buy Halloween decorations -- that's ideal. If not, check out a party store that carries seasonal decor all year long. Pumpkins, plastic skeletons, spider webs and bats would make awesome party decorations. Use plastic hatchets and machetes as table props.
Step

2
Set up a snack area. Think about what kids like to eat during movies and stock up. Popcorn with different flavored sprinkles such as cheese and butter is a must have. Bowls of candy, licorice, tortilla chips and cheese dip, and giant pickles are other movie themed options. To go with the horror theme, make cupcakes and ice them with scary face decorations or stick black licorice into peanut butter cups to look like spiders.
Step

3
Grab some horror movies. Think about what may be appropriate for kids this age. Movies like "Twilight," "Teen Wolf," "Poltergeist," "Ghostbusters," "Beetlejuice" and "Monster Squad" are all rated PG-13 or PG. Scary movies that are enjoyable for all ages include fare such as "A Nightmare Before Christmas," "Gremlins" and "Corpse Bride." Tailor the movies to the ages of the guests, and if little brother or sister is watching too, be aware of that. R.L. Stine's "Goosebumps" movies are also great for this age.
Step

4
Make the viewing area comfortable. Turn down lights and light some spooky candles. Have lots of throw pillows and blankets available so kids can lie down and make themselves at home while they are viewing the scary movies.
Step

5
Have a few games handy for in between the movies. Make up some trivia questions based on scary movies that kids can answer and win prizes. Or, make some matching games that list movie characters on one side and the movies they appear in on the other and kids can match them for a spooky prize.
Tips & Warnings
Check with guests' parents beforehand to make sure their child is allowed to watch the movies you will be showing.
Photo Credits
Dynamic Graphics Group/Dynamic Graphics Group/Getty Images