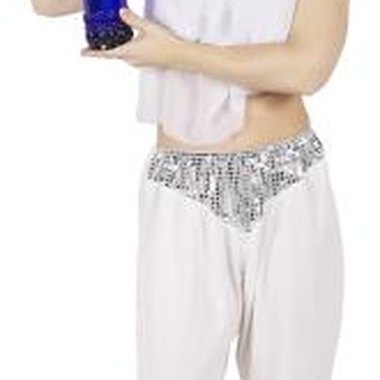 Ditch the traditional spooky decorations, black and orange colors and creepy food you normally serve each year at Halloween in favor of throwing a genie-themed Halloween party. With proper planning, your guests will leave knowing that more than three wishes were fulfilled at your party. You might even receive the label of best genie on the block. Simply visualize the homes of Aladdin's genie or Jeannie from "I Dream of Jeannie" and you will be well on your way to throwing a genie Halloween party.
Items you will need
Invitations

Costumes

Food

Drinks

Tables

Tablecloths

Table runners

Pillows

Genie-style bottles

Genie oil lamps

Candles

Paper lanterns

Incense

CDs

Halloween buckets

Chocolate

Bubblegum

Fruit candy

Hourglasses

Finger cymbals
Step

1
Set a budget, select a time, date and location and create a guest list. Decide if the party will be for kids or adults only or if it will be a family Halloween party. If the party is for kids, make it an afternoon party to avoid tired and irritable children.
Step

2
Make your invitation. Write "You are invited to a magical Halloween party where your wishes come true" on a scroll. Include the time, date, location and RSVP information on the invitation. Or write "Come out of your bottle on Halloween for the Genie's Ball at Smith's House of Wishes" and the party details on a small piece of paper. Roll the invitation and insert it into a genie-style bottle. Regardless of the invitation style you use, ask guests to dress as a genie or character from Arabian Nights. Dress in a genie costume and hand-deliver the invitations.
Step

3
Make a list and prepare food and drinks to serve. Offer a gin genie cocktail to adults made with mint leaves, gin, sloe gin, lemons and simple syrup. Or give them caramel apple martinis made with butterscotch and sour apple schnaps and vodka. Make lemonade and add cherry juice for a visually striking contrast. Serve Arabian-inspired foods like falafel, hummus and flat bread, chicken, eggplant and green pepper kabobs and couscous. Or serve party food guests commonly wish to eat like spicy chicken wings, shrimp cocktail, pretzel wrapped hotdogs and stuffed mushrooms. Set out cookies, fruit kabobs and pound cake to be dipped in a chocolate fountain. Finish the decadent spread with individual servings of custard, caramel apples and cupcakes.
Step

4
Decorate the party room to look like the inside of a genie's bottle. Hang a sign that says "Happy Halloween" across the entryway. Cover low tables with turquoise tablecloths and magenta table runners. Lay pillows on the floor circling the tables. Place colored genie-style bottles and genie oil lamps around the room. Cluster candles on the tables and drape paper lanterns from the ceiling. Light incense. Create a playlist for the party and include songs like "Monster Mash," "Thriller," "Purple People Eater," "Ghostbusters" and "I Put a Spell on You."
Step

5
Pass out trick-or-treat goodies before guests depart. Fill Halloween buckets with chocolate, bubblegum and fruit flavored candy, as well as hourglasses and finger cymbals.
Photo Credits
Hemera Technologies/PhotoObjects.net/Getty Images