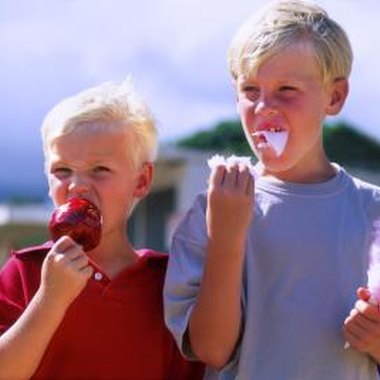 The carnival is coming to town in your backyard as an unforgettable birthday for your 8-year-old girl and her gang. Organization in planning the party ensures less stress, an entertaining experience and kids running from one booth to the next on sugar highs. The carnival-themed birthday party, pulled off with fervor and without a nervous breakdown, is sure to impress your neighborhood, attendees and, most of all, the honored guest. You can watch with a smile as your little girl's eyes widen with excitement and wonder throughout the day.
Items you will need
Invitations

Helpers

Tent (optional)

Large cardstock

Markers

Helium balloons

Streamers

Folding tables

Hoops

Football

Basketball

Softball

Paper clips

Glass jars

Golf putter

Golf balls

Squirt guns

Pingpong balls

Golf tees

Face paint

Paintbrushes

Fortuneteller bandanna

Toy "8 ball"

Tablecloths

Paper plates

Paper or plastic cups

Plastic utensils

Hot dogs

Corn dogs

Large pretzels

French fries

Nachos

Ice cream

Ice-cream cones

Pizzas

Drinks

Birthday cake

Tickets

Prizes

Goodie bags

Carnival music

Garbage cans
Step

1
Write "You're Invited to (8-year old's name) Carnival" on the invitations. Add the date, time, place and RSVP details. Send the invitations out about one month in advance of the birthday party.
Step

2
Write a list of tasks you need completed, such as setup, working a booth or food service. Assign each of your helpers a task.
Step

3
Call a local party store at least two months before your child's birthday party to reserve items such as popcorn, cotton candy and snow-cone machines, a bounce house, dunk tank, tents or folding tables. Request the items be delivered and set up the day before the party or at a specific time before the start of the party.
Step

4
Make reservations for specialty acts such as a clown, magician and pony rides. Stagger the times for each act to appear so there is constant entertainment throughout the party.
Step

5
Make signs for your entertainment, food and game booths using the cardstock and markers. Include a sign for each game table that describes the goal of the game to keep your helpers from needing to repeat directions. Decorate your party venue with bright balloons and streamers.
Step

6
Set up the game and food tables. Game ideas include throwing a football through a hoop; shooting a basketball into a hoop; throwing a softball into a basket; dropping paper clips into glass jars from above; putting a golf ball into a small cup; and squirting a pingpong ball off a golf tee with a squirt gun. Give your face painters paint and paintbrushes for their work. Supply your fortuneteller with a bandanna to wear and an "8 ball" toy for making predictions. Drape the food tables with colorful tablecloths and set up with paper plates and paper or plastic cups and utensils. Serve items such as hot dogs, corn dogs, large pretzels, french fries, nachos, ice-cream cones and slices of pizza, as well as drinks. Include a carnival-themed birthday cake.
Step

7
Place tickets at each game table for kids to win toward prizes. Create a prize table for a helper to run, with toys and candy such as paddle balls, animal crackers, stuffed animals and plastic kazoos. Include goodie bags for carnival attendees to put their prizes in to take home.
Step

8
Play upbeat carnival music throughout the event to further set the mood. Set up garbage cans around the exterior of the carnival to facilitate cleanup.
Tips & Warnings
Create or purchase invitations that look like carnival entrance tickets.

Recruit assistance from friends, family members and parents of attendees. Hire local neighborhood kids or babysitters to perform face painting and fortunetelling and run game booths. Offer them a small fee for the day's services.

Complete an inventory of outdoor supplies you have, and need, for the game booths well before the party.

If you can't afford to rent special carnival food machines, a bounce house or dunk tank, or hire professional entertainers or set up pony rides, don't worry. With plenty of good food, games, volunteer helpers and prizes, kids will still enjoy themselves. You don't even really need a tent!
Photo Credits
Thinkstock/Comstock/Getty Images