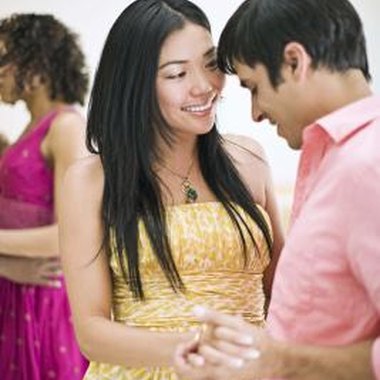 Organizing your own dance party requires a lot of time and energy, which makes it a stressful prospect. Depending on your budget, your party can take a number of forms. For example, if you have the money, you can rent a dance hall, while those with less cash will have to do it home. Regardless of what kind of party you choose, a few basic steps will ensure that your dance party is a success.
Items you will need
Large room

Sound system

Dance floor

Refreshments

Decorations

Invitations
Step

1
Develop a theme for your party, such as a costume party where everyone dons clothes from a specified decade. If the party is happening on or near a holiday such as Halloween or Christmas, use that holiday as the theme of your party. If you don't think your guests will appreciate a theme, keep it neutral. Think about how big you want your party and what kind of atmosphere you would like.
Step

2
Ensure that you have enough space for the party. Your dance floor is one of the most important aspects of the party. If you can't afford to book a dance hall, clear enough floor space at your house or a friend's house. You should be able to accommodate all of your friends.
Step

3
Once you have a general plan, call up the people you want to invite. If you want to try something more formal, send out printed invitations. For a theme party, decorate your invitations accordingly. For example, if you're planning a '50s party, decorate your invitations with images of greasers and retro cars. To throw a big party, tell your guests to spread the word and encourage a large crowd.
Step

4
Unless you plan to leave the radio on all night, you'll need a DJ to select and play music. There are plenty of reasonably priced DJs who will spin records at your party for a small fee. You may also have a friend who wants to fulfill this role; or, if you're in a bind, do it yourself. Select an assorted mix of dance songs that you can play during the night.
Step

5
Purchase refreshments. Like any party, you will need to purchase drinks and a few snacks for the big night. Look at your guest list to determine what you need. Purchase alcoholic drinks and serve cocktails if you think your guests are going to drink a lot. If not, purchase bottled water and soft drinks.
Step

6
Decorate the party space. Streamers, ribbons and signs are all cheap ways of livening up your party space. If you're planning a theme, you may wish to purchase specific decorations that suit the mood, such as red-and-green lighting for a Christmas-themed dance party or pumpkins for a Halloween party.
Photo Credits
Jupiterimages/Brand X Pictures/Getty Images