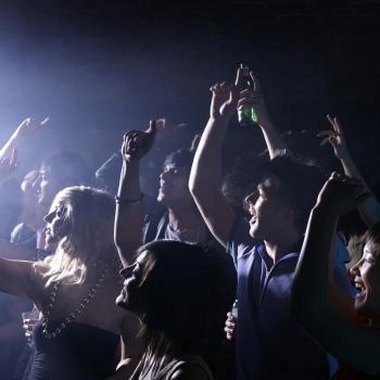 Many teenagers love to dance and your 14-year-old might enjoy the chance to show off all her moves to friends. Whether you want to celebrate a birthday, graduation from eighth grade or some other event of significance, throwing a dance party allows teens to let loose and enjoy the night. Make sure you stock plenty of refreshments so the teens can stay hydrated as they dance the night away.
Items you will need
Invitations

Decorations

Food
Step

1
Compile a guest list to determine the appropriate venue size. Write down the 14-year-old's friends, any crushes she may have and family members. You'll also need the guests' addresses to send out invitations.
Step

2
Pick a date and time. Try to pick a Friday or Saturday evening, even if the party will commemorate a birthday. Dance parties are best held on weekend nights so the guests won't have to wake up for school the next day.
Step

3
Book a venue by calling local establishments and telling the representative that you want to hold a dance party. Good spots for a 14-year-old's dance party include restaurants with space for dancing or hotels with party facilities. If your guest list or budget is small, consider having the party in your backyard.
Step

4
Purchase party supplies, such as balloons, table centerpieces and wall decorations. For a theme or color scheme, keep the 14-year-old honoree's favorites in mind.
Step

5
Call the 14-year-old's favorite restaurant and order food for catering, if necessary. If you're holding the event in a special facility, such as a hotel, the facility may require you to purchase food from an on-site vendor. Check with the facility you're renting to make sure you can bring off-site food on the premises.
Step

6
Book a DJ by asking friends for recommendations and then calling the DJ to reserve your time and date. Tell the DJ that the party is for a 14-year-old so that he avoids playing music with suggestive lyrics or curse words.
Step

7
Send out invitations to all the people on your guest list. Allow about one month's notice and ask guests to RSVP so you know how many people to expect.
Step

8
Arrive at the venue a few hours before the party begins to set up decorations. Recruit friends or family to help you set up the party. Take a final look and make sure nothing is missing before the guests arrive.
Tips & Warnings
Don't allow the party to go too late, since 14-year-olds will need to have their parents pick them up.
Photo Credits
Michael Blann/Lifesize/Getty Images