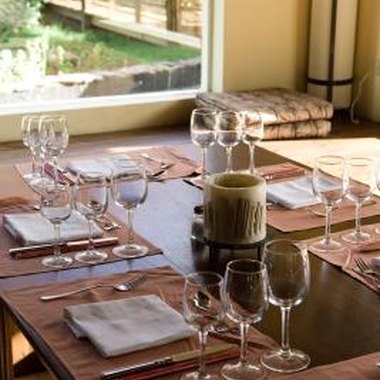 Huntsville, in Alabama's Madison County, is a historic city dating back to 1805. It is full of attractions and things to do. On a special occasion such as Valentine's Day, a couple seeking a fun or romantic date night can find plenty of dining and entertainment options in the city.
D & L Bistro
D & L Bistro (dandlbistro.com), just south of downtown Huntsville close to Whitesburg Park, is a romantic fine-dining restaurant. It has an inviting, comforting atmosphere with a clean, bright decor. The food is high scale European fare, including twists on French and Italian dishes; the menu includes quail coq au vin, osso bucco, fettucini Alfredo, and bacon wrapped scallops. The restaurant is open Monday to Thursday for lunch and dinner, but Fridays and Saturdays for dinner only.
801 Franklin
Closer to downtown Huntsville, 801 Franklin (801franklin.net) is another possible date night restaurant. It is a fine-dining restaurant with a clean, open and bright decor, perfect for a romantic dinner for two. The menu is small and select, featuring gourmet dishes with Southern influence; dishes include seared chicken breast with andouille rice, pan seared salmon with polenta, salsa and asparagus, and coffee-rubbed New York strip steak with roasted potatoes. The restaurant is open for dinner Monday to Saturday from 5 p.m.
Huntsville Botanical Garden
With the evening meal planned and booked, something to do for Valentine's Day afternoon might be next. Just west of downtown Huntsville, a botanical garden (hsvbg.org) is a romantic way to spend the afternoon. Very little will be in bloom, but the manicured walkways and nature trails are still worth walking around. Between mid-January and late February, dogs are also welcome, so the family pet might get in on the Valentine's walk, too.
Broadway Theatre League
If Valentine's dinner is early enough, couples could take in a show afterward. The Broadway Theatre League (broadwaytheatreleague.org) is close to the heart of downtown, near Big Spring Park. Performing out of the Van Braun Center, the league hosts professional performances such as "Shrek the Musical," "Rock of Ages and "Young Frankenstein."
Photo Credits
Photos.com/Photos.com/Getty Images