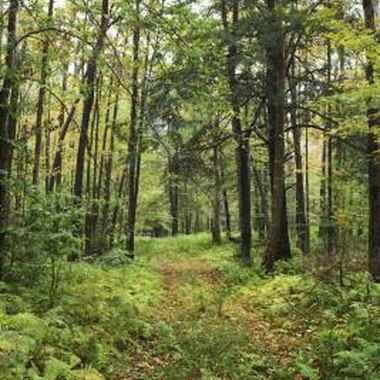 Tabernacle, New Jersey, is a township in the Pinelands National Reserve in the southern part of the state, about 30 miles from Philadelphia. The rural area has more than 6,900 residents across its 48.5 square miles, according to the 2010 Census. It was included in South New Jersey magazine's list of Top 10 Small Towns in 2009.
Explore the National Reserve
Founded in 1978, the Pinelands National Reserve (nps.gov) is the first national reserve in U.S. history. It includes community centers, a wildlife refuge and 12,000 acres of pygmy forest, a forest of mature pine and oak trees. Rare plants in the reserve include curly grass fern and broom crowberry. Things to do when exploring the reserve include sightseeing, bird watching, photography and hiking. The New Jersey Pinelands Commission organizes walks, canoeing trips and hands-on nature demonstrations in the reserve. Fishing is also allowed.
Farmers' Markets
Visitors to Tabernacle can purchase fresh food and produce at farmer's markets such as Russo's Fruit and Vegetable Farm (russosfruitandveg.com). The farm grows and sells fruits and vegetables, including Jersey corn, peaches, nectarines, cabbage and zucchini. The bakery sells apple cider donuts, muffins and pies. An on-site shop sells children's toys, home decor items and wine. The Tabernacle store is open daily from Easter until Christmas Eve each year.
Learn About History
The township's American Legion Post (post11.org) includes a memorial that marks the death of a man hailed as Mexico's Charles Lindberg. Emilio Carranza was a pioneering pilot who crashed his plane in a thunderstorm in the township in July 1928. Other historical sites include the Pepper-Knight House, which was built in 1860, the Tabernacle Township Friendship School, which was built in 1778 and the township's cemetery. The last Lenape Indian living in the area was buried in the cemetery in 1895.
Other Activities
Local children can participate in Girl or Boy Scouts, and the Boy Scouts' Pine Tree Environmental Center (bccbsa.org) and the Girl Scouts' Camp Inawendiwin (gscsnj.org) are located in the township. Also, the area includes fields and courts for soccer, baseball, tennis and basketball. For nature sightseeing, visit the Pine Tree Center (no website; 110 Butterworths Bogs Rd; Tabernacle; NJ; 08088; 609-268-0717) and Butterworth Bogs.
Photo Credits
Thinkstock/Comstock/Getty Images