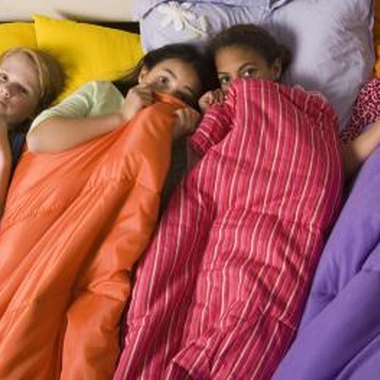 Twelve-year-olds are a tricky group to entertain -- they know what they want, but they are hard to please. This applies to all aspects of their lives, including a slumber party. Consider these ideas for your girl's or boy's next slumber party; not only will these ideas keep them entertained, but they will probably talk all about them the next week at school -- which, for parents, is "mission accomplished."
Spa Night
A spa night is ideal for a girls' slumber party. Set up stations including a nail polish area where girls can paint their fingers and toes in a rainbow of colors; arrange a large mirror and vanity in a well-lit area for a makeup station and be sure to include a wide variety of eye shadows, lip gloss and blush so they can do each other's makeup. Blow dryers, curling irons and straighteners are a must for a hair station. Before the girls leave the next morning, treat them with a spa-themed party favor bag that includes nail polish, lotion, soap and other spa goodies.
Mix In Fashion
Tween girls love fashion, so a sure way to spice up a slumber party is to include fashion in the festivities. Have each girl bring a few of her favorite outfits to the party; the group of girls can mix and match all of the pieces to create new looks and show them off on a makeshift runway in a hallway or open space. If you have the time and funds, go to a thrift store and pick out a bunch of fun and funky pieces, including dresses out of another era, high heels that are too high for walking, and accessories such as flashy jewelry and belts. Provide a jewelry or purse-making project and put on a fashion-themed movie such as "The Devil Wears Prada."
Camping-Themed Party
Plan a camping-themed party for a group of boys (or even girls) to keep them outdoors and active the entire night. Start with a tent set-up; how many tents you need will depend on how many kids are at the party. Let them set up the tents for a team-building activity. Grill traditional camping fare such as hot dogs and burgers. If you have a fire pit or fireplace, be sure to include s'more making in the night's activities. Keep the group occupied with outdoor games such as horseshoes and volleyball, and end the night in front of a fire, telling scary stories or whatever 12-year-olds like to talk about around a fire.
Movie Marathon
A movie marathon night is perfect for girls or boys, because you can create a theme that caters to either. Boys or girls might enjoy a fantasy movie night with movies like "The Princess Bride" and "The NeverEnding Story." Choose a series like "Star Wars" or "Harry Potter" and play all of the movies in the series (if there's time, of course). For sports-loving girls, choose a group of movies that includes "Bend It Like Beckham" and "National Velvet." Set up a table with a good selection of movie-theater fare including popcorn, candy bars and soda pop for the movie-watchers to snack on the entire night.
Photo Credits
Jupiterimages/Brand X Pictures/Getty Images