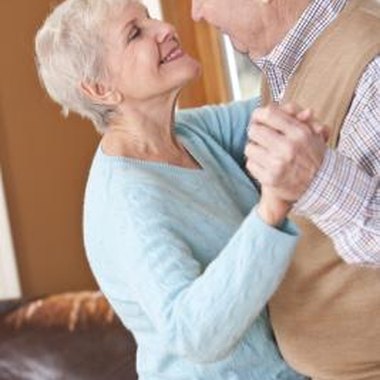 Speaking about your parents at their 50th wedding anniversary can be slightly daunting if you're not a fan of speaking in public, even though you'll be surrounded by loved ones. Planning ahead will help to make you less nervous about speaking at the event, and will prompt you to recall some fond memories about your childhood and the beauty of your parent's marriage.
Anniversary Speech
If you've been asked to give a speech at your parents' 50th anniversary celebration, you can start off by sharing the story of how your parents met. The stories of your parents' early years of dating, or even a slightly humorous interpretation of how your mother and father felt the first time they laid eyes on each other will help to spark pleasant feelings between your parents and will entertain the guests. You can conclude your speech by stating how glad you are that the your parents met and that you love them and wish them many more years of happiness.
Anniversary Toast
Give the partygoers a few fun facts about the year your parents were married as the short introduction to your anniversary party toast. For instance, if the guests of honor became newlyweds in the early 1960s, you might share with the guests that the famous TV show "I Love Lucy" made its debut in 1962. Explain that this was not only a classic year for television, but 1962 marked the beginning of a beautiful relationship that resulted in you and your siblings. Or briefly share a bit of advice your parents gave you when you were younger like "Always do your best" or "Love is the most important thing in life" and explain how this counsel has helped you in adulthood before saying "Cheers!" so everyone can clink their glasses.
Conversations with Guests
Engaging in entertaining conversations with the anniversary party guests will help to ensure that everyone has a great time --- this is also party of your "duty" if you and your siblings are the hosts for your parents' 50th anniversary celebration. For instance, this may be a good time to briefly catch up with your grandparents or older aunts and uncles by telling them about your children's latest academic accomplishments or your plans for career advancement. However, keep in mind that this is your parents' party, so thanking your parents' siblings and parents for the hand they had in strengthening your mother and father's bond is perfectly appropriate at this time as well. It's also fitting to talk to the younger members of the family during the party briefly about school or friends, so they feel included.
Acknowledgments and Farewells
As the anniversary celebration comes to a close, thank everyone collectively for attending and make any necessary acknowledgments. For instance, if your aunt and uncle were in charge of the food, show them your appreciation by publicly saying "thank you"; you can also present them with a small monetary gift or bouquet of flowers after the party. This is also a good time to acknowledge your siblings and other family members and friends who helped you organize the anniversary party. State one last word of appreciation to your parents for being such a wonderful example of love, and congratulate them again on their anniversary. If the party is small, say goodbye to each of your loved ones with a hug and kiss as they exit the event.
Photo Credits
Comstock Images/Comstock/Getty Images