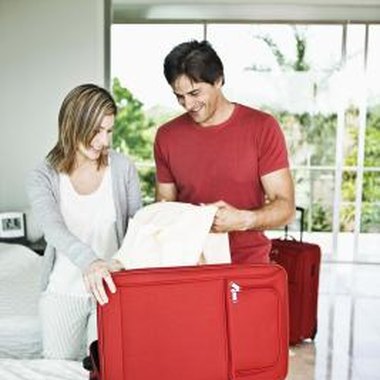 Waiting until the last minute to pack for your vacation can result in forgetting to bring along important vacation must-haves, such as the charger for your camera or those new comfy walking shoes you can't live without. Making a packing list is the best way to prepare for your trip with confidence, so that you don't suddenly realize you left something at home mid-flight.
Garments
Depending on your vacation destination, the season and your planned activities dictate what types of garments to pack. For a beach destination, you can wear sarongs, sundresses, loose pants and swimsuits day and night. If you are traveling to Rome and plan on seeing an opera, you will need to bring along something formal, such as a blouse and slacks. Don't forget to pack the extras. Prepare for inclement weather by remembering to pack a light sweater, extra socks and a rain jacket. If you need to save space in your suitcase and want to leave out the formal wear, pack a tie or scarf. These accessories can instantly make your outfit go from normal to formal.
Electronics
It is a good idea to remember to pack necessary electronics -- just don't use them to check your work email from your chaise on the beach. If you are traveling overseas, find out what kind of power adapter to purchase, so you can plug in your gadgets at the hotel. Your camera and cell phone are packing checklist musts. MP3 players, laptops, portable DVD players and extra batteries are handy to have, too. Make sure you have a calculator on your phone or MP3 player -- or pack a real calculator. You never know when you will need to total up the sum of something, figure out a tip or convert currencies.
Important Documents
Don't leave home without important documents, such as your plane tickets, driver's license, passport, the receipt or voucher for your hotel and car rental, traveler's checks and a map of your destination. You might also want to pack a list of your friends' and relatives' addresses, so you can send postcards. It's easy to think that you will remember to grab these items on your way out the door, but putting these items on your packing list ensures that you will not forget them.
Toiletries
If your vacation involves staying at a domestic hotel, chances are your accommodations will provide you with toiletries like small soap bars and bottles of shampoo and conditioner. If you are heading overseas, bring along small toiletries in case your international hotel does not have the same offerings. Travel-size toiletries will at least get you by for a couple of days until you can find a place at your destination to purchase more. Don't forget any special sunscreens, prescriptions or face washes that you need. Aloe vera gel, bug repellent spray and a pack of baby wipes may also come in handy.
Snacks
If you are gearing up for a road trip, you can bring along your own snacks to eat mid-trip or to stuff your fridge and pantry with when you arrive at your destination. Bring along a cooler with goodies that are simple to prepare, such as a loaf of bread, peanut butter, bottles of water and chips or pretzels. Remember to pack useful kitchen accessories, such as a can opener and a corkscrew.
Extra Accessories
If you anticipate doing a lot of sightseeing on your vacation, some extra accessories to remember to bring include binoculars, a vacuum bottle, first aid kit, a journal for documenting your experiences, an umbrella and a flashlight.
Photo Credits
Jupiterimages/Brand X Pictures/Getty Images