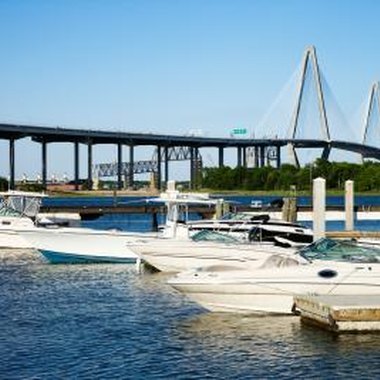 Charleston, South Carolina offers a wealth of outdoor activities. The problem isn't finding something to do, but choosing one. An ideal place to start is the parks in the area, which offer both planned activities and room to roam on your own. The Palmetto Trail has many hiking and biking opportunities through a wide variety of terrain and scenery around the Charleston area.
Swimming
The Charleston County Parks and Recreation Commission (ccprc.com) lists beaches, outdoor pools and water parks that have American Red Cross-certified lifeguards, at least in season, which is generally May 1 through Labor Day. Folly Beach County Park, Isle of Palms County Park and Kiawah Beachwalker Park have restrooms, dressing areas, picnic areas with grills, children's play areas and volleyball courts year-round. In season, they may have food and retail vendors, outdoor showers and rentals of beach chairs, umbrellas and sand wheelchairs. The county has five indoor pools that are open year-round, and seven outdoor pools that are open only in the summer. There are also three water parks: Splash Island in Mount Pleasant Palmetto Islands County Park, Splash Zone in James Island County Park and Whirlin' Waters in North Charleston Wannamaker County Park.
Canoeing and Kayaking
The county parks offer classes and trips for canoeing, kayaking and stand-up paddleboarding (charlestoncountyparks.civicplus.com). Classes range from beginning to advanced and are half-day, full-day and multi-day in length. The annual East Coast Canoe and Kayak Festival is held in the spring at James Island County Park. The three-day event has classes, demonstrations and retailers that let you try out equipment before you buy.
Climbing
James Island County Park has a 50-foot-high outdoor climbing wall with over 4,500 square feet of climbing space. It is a staffed facility which requires waivers to be on file and belayers to be certified and at least 14 years old. The park also has a Youth Climbing Team and Club for beginners and up, family climbing programs, classes and clinics.
Hiking and Biking
Charleston and surrounding areas have many named trails and hikes. Some are part of the Palmetto Trail, a system of trails for hiking and biking that runs throughout the state (scgreatoutdoors.com). The website Backpacker.com describes three Charleston trail hikes. Two are on the Palmetto Trail: the 8.2-mile hike through the forests and swamps of the Swamp Fox Passage, and the 9.8-mile Awendaw Connection through forests and tidal creeks with ocean views. The third hike, the 8-mile High Ground Loop, goes through the marshes of the Pinckney Island National Wildlife Refuge. Charles Towne Landing, the site where the state's first settlers came ashore, has 7 miles of paved and unpaved trails along marshes, with English gardens and live oak trees hundreds of years old.
Playgrounds
Sometimes families need somewhere for children to just run and play. Charleston has numerous public playgrounds. Most are in the large public parks, but a few are operated by private institutions. The Hazel Parker Playground on East Bay Street has not only a a playground, but green space to run, basketball and tennis courts, a dog run, and organized activities, both indoor and out. Contact the individual parks for their hours and programs.
Photo Credits
Jupiterimages/Photos.com/Getty Images