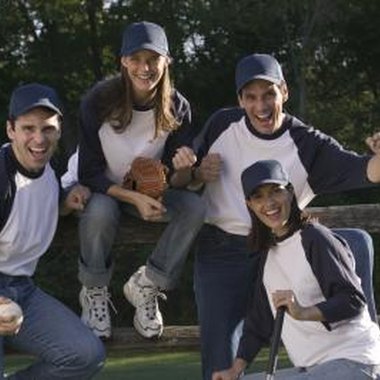 At first glance, a friendly softball game might not seem like that hard of a thing for which to pack: bat, ball, glove ... good to go, right? However, to get the most out of your sporting afternoon, there are a few extra bells and whistles that you and your friends will appreciate.
Basic Equipment
Ask those with whom you will be playing just how much gear everyone has. True, if you just bring a glove and wear tennis shoes or cleats, you might luck out if your teammates plan more carefully. However, if everyone packs minimally, then you and your friends could find yourself short on, say, bats. Also, bring plenty of balls, especially if there are a few sluggers among you. While home runs are impressive, they slow down game play or worse, render the balls irretrievable, depending on where you are playing. Lastly, batting helmets and catcher's gear are essential for safety, especially if you are playing fast pitch.
First Aid
Sunscreen should be high on your list of things to pack. Even if it's an overcast day, harmful UV rays can affect everyone's skin. Read the application directions carefully, especially if it is hot and you are sweating a lot. Also, a general first aid kit should be on hand, as sliding into bases can lead to scrapes and cuts for those who opt to wear shorts. And throw a few ice packs in the cooler for twisted ankles or other sprains.
Food
Snacks make any outdoor recreational activity better, so fill your cooler with easy-to-make, ready-to-eat treats. Sandwiches and granola bars are some of the easiest things to pack, but feel free to spruce things up a bit --- without working that much harder --- with some more elaborate picnic fare. For example, a simple antipasti side salad or deviled eggs could be whipped up the morning of or the night before.
Beverages
Hydration is essential, especially in summer heat. Take along plenty of bottled water --- or sports drinks, if that's your thing --- for everyone. If your softball game is a leisurely one featuring all adults and you have a hankering for alcohol, it's important to remember a few things. For starters, alcohol dehydrates you, so keep that water handy. Also, keep in mind where you are playing, and make sure beer consumption is not forbidden there. Public parks, for example, usually do not allow alcohol.
Photo Credits
Comstock Images/Comstock/Getty Images