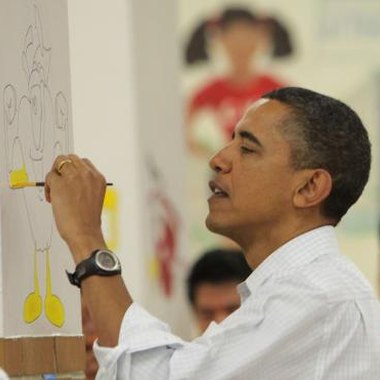 Martin Luther King, Jr. is an American icon, not just for the values he preached, but because in his speeches, sermons and writings, he encouraged and inspired people of all colors and religions to act as he did. When President Ronald Reagan made the nearest Monday to January 15th, Martin Luther King's birthday, a Federal holiday in 1983, it confirmed that his influence would continue to be known and felt by Americans for all time.
Public Service
Martin Luther King, Jr. once said, "Life's most persistent and urgent question is: 'What are you doing for others?'" In that spirit, starting with the Martin Luther King Day before his inauguration, President Barack Obama has encouraged Americans to get out and volunteer as a way of celebrating MLK Day. Since then, neighborhoods across the country have organized public-service programs to get people involved mentoring at-risk youths, building or repairing homes, visiting the sick, elderly or disabled and making a difference any way they know can.
Read His Writings
There's no better to celebrate the life of Martin Luther King, Jr. than studying the words that inspired a nation for yourself. Read the "I Have a Dream" speech and watch a video of him delivering it. The Martin Luther King, Jr. Research and Education Institute at Stanford University has many of his speeches, letters and other records available to the public, as well as videos, audio, a timeline of his life, and many quality secondary sources about his life and legacy.
Martin Luther King, Jr. National Memorial
Starting MLK Day 2012, you can visit the Martin Luther King, Jr. National Memorial on the Mall in Washington, D.C. The Memorial uses imagery of the "Mountain of Despair" of the past and the "Stone of Hope" for the future alluded to in the "I Have a Dream" speech to take visitors through the struggles and triumphs of King's life. The central piece of the Memorial is the 450-foot crescent-shaped granite Inscription Wall, engraved with 14 of his most memorable quotes not from the "I Have a Dream" speech.
Atlanta
The King Center in Atlanta, Dr. King's hometown, has a week's worth of free activities in celebration of his Day each year. Events for the 2011 observance included a Stop the Violence Run, a conference of youths from across America engaged in non-violent advocacy movements, a community-wide forum on violence prevention and an address from the Governor of Georgia. Other places of interest in Atlanta include the Martin Luther King Birth Home on Auburn Avenue Northeast and his Ebenezer Baptist Church nearby.
Photo Credits
Pool/Getty Images News/Getty Images