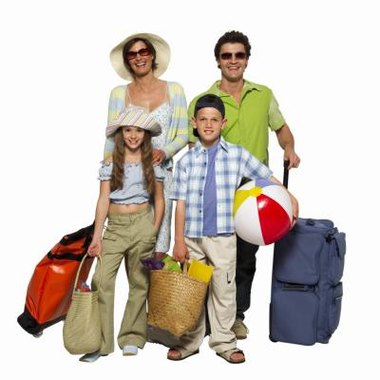 Head to Sussex County, Delaware, if you are tired of spending your family vacation dragging kids through shopping malls or wasting time in the hotel, struggling to think of what to do next. Nestled in the southern part of the state, Sussex County is home to a variety of activities and attractions that kids are bound to love, from bustling boardwalks and pristine beaches to corn mazes and pirate ships.
Beaches
Sussex County spans the coast of the southeastern corner of Delaware, touching the Maryland boundary. The county's extensive perch on the Atlantic Ocean makes it home to a number of beaches that are well-suited for a sun-filled family outing. Dewey Beach (beach-fun.com), Rehoboth Beach (beach-fun.com), Lewes, Bethany Beach and nearby Fenwick Island (bethany-fenwick.org) boast sandy beaches fit for a picnic or tossing around a beach ball, ocean waves for the kids to splash in and a gentle breeze that makes resting in the sun even more refreshing.
Museums
A variety of museums that will interest children fill Sussex County. The Delaware Aviation Museum at the Sussex County Airport is home to a collection of aviation artifacts from World War II and exhibits a number of airplanes, from a B-25 bomber to a Soviet Yak 52 (georgetownair.com). On Fenwick Island, the DiscoverSea Shipwreck Museum (discoversea.com) holds artifacts from nearby shipwrecks, as well as ones from around the world. Other museums, such as the Nanticoke Indian Historic Museum (nanticokeindians.org/museum), provide a glimpse into the history and culture of Delaware's earliest residents.
Amusements
Families looking for an exciting day in Sussex County will find a number of amusements to keep them busy. At Fenwick Island Boardwalk, enjoy a round of miniature golf at Viking Golf Theme Park, or go-kart rides and water slides at Thunder Lagoon Waterpark (vikinggolfamusements.com). The boardwalk at Rehoboth Beach features an arcade, carnival rides, miniature golf and plenty of vendors selling fried dough and other boardwalk delicacies. Kids will have a blast pretending to be a pirate on a Pirates of Lewes Expedition (piratesoflewesexpeditions.com). With their sailor sashes and treasure maps, a ride on a pirate ship down the Lewes-Rehoboth Canal promises to be an adventure.
Outdoor Adventures & Attractions
There's no better way to celebrate the beginning of fall than to head to Mr. Pepper's Pumpkin Patch in Laurel (mrpepperspumpkinpatch.com). Here, children can pick the perfect pumpkin, then find their way through the two-acre a maze created from towering corn stalks. Adventure-seeking children (who have permission from their parent) can fly high and enjoy breathtaking views of the southern Delaware coastline at Dewey Beach Parasail (flydewey.com). Take the kids on a Inland Bays Tour. Here, passengers hop aboard a pontoon boat and coast around an estuary to learn more about the ecosystems and the organisms that live there.
Photo Credits
George Doyle & Ciaran Griffin/Stockbyte/Getty Images