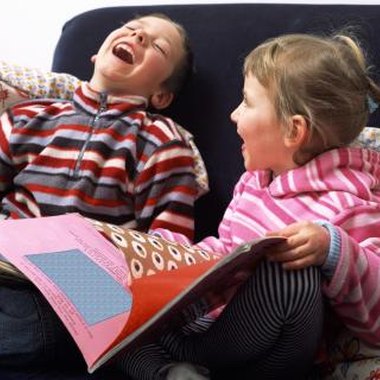 Iowa City, located in Johnson County, Iowa, is one of the state's largest cities. Des Moines and Cedar Rapids are Iowa's biggest municipalities and boast many types of events and adventures that may interest youngsters. Iowa City holds its own, however, with several opportunities for children's fun, many of them taking place indoors.
Hancher Auditorium
Located on and affiliated with the University of Iowa's arts campus, the Hancher Auditorium regularly stages events that should interest both kids and their caretakers. The National Acrobats of the People's Republic of China, the Paul Taylor Dance Company, and Hubbard Dance Street Chicago can be counted among recent performers. Although a 2008 flood severely damaged the building, Hancher still presents many engagements in local venues. Kids aged 17 and younger qualify for discount price tickets.
Par-tee Zone
Par-Tee Zone stands as Iowa City's definitive center for indoor family entertainment. Slides, safe climbing structures and amusing tubes comprise the Zone's 2,500-square foot playground. An arcade is on hand, and children and parents can also tee up for miniature golfing under Par-Tee Zone's roof. Open every day of the week, prices for admission increase slightly on weekends. But the cost is affordable -- just $8 for a big kid to both climb and play golf on a Friday, Saturday or Sunday as of August 2011.
Iowa City Public Library
Libraries may not seem like the liveliest sources of indoor fun for kids. Iowa City's Public Library, however, puts on a number of events for budding bookworms, getting them excited about reading. Found on 123 South Linn Street, Storytime events are held every day of the week. Toddlers can arrive on Mondays and Tuesdays at 10:30 a.m. for readings, while preschoolers should be there Wednesdays and Thursdays at the same time, as of 2011. Families gather together for book fun at the library on weekends.
Iowa Gym-nest Gymnastics
Youngsters who like to flex their muscles will enjoy the gymnastics classes offered here. Iowa Gym-nest has two locations. Iowa City residents should head to 545 Olympic Court, right in town. Adults accompany the very youngest future gymnasts, aged up to 24 months, in the Tiny Tots program. There are also recreation classes for both boys and girls. Children can enjoy acrobatic birthday parties lasting 90 minutes at Iowa Gym-nest, costing $135 for up to 15 participants as of 2011.
Photo Credits
Creatas Images/Creatas/Getty Images