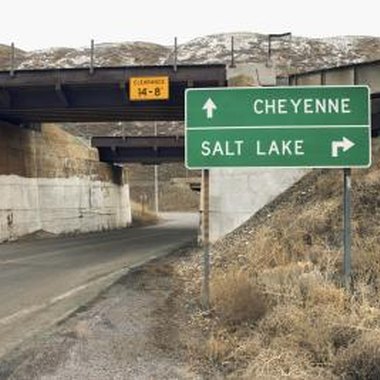 Cheyenne's position as capital of the state of Wyoming makes it a prime destination for traveling families, and residents of the city also will find many activities to keep their kids entertained. Attractions for kids in Cheyenne range from educational experiences to activities that draw on the city's Western heritage and atmosphere.
Western Experiences
Kids can experience the adventure of Wyoming's Western heritage at attractions like the Bit-O-Wyo Ranch (bitowyoranch.com), which puts on an evening show accompanied by dinner. Food includes beans and steak while the entertainment lineup features the Bit-O-Wyo Blue Water Cowboy Band and comedy acts. The Terry Bison Ranch (terrybisonranch.com) offers a host of activities for young and old. Highlights include 15-minute pony tours for kids at this attraction's Kid Corral. Children can also go on funfair rides at the Ranch's carnival area and enjoy Western food at the Ranch's Steakhouse.
Sports
Cheyenne's sporting facilities for kids include the Clay Sturman Skateboard Park (no website; 3056 Windmill Road, Cheyenne; 307-637-6423). Skating fans can try their luck at a range of skateboarding facilities, which include a half pipe, spine ramp and pyramid. Cheyenne's Roller City (rollercitycheyenne.com) is the place for kids who prefer roller skating to skateboarding. This family oriented establishment has been around since 1972. Kids can skate during public sessions or watch a roller derby match. Roller City can provide for children's birthday parties, serving food such as pizza and cupcakes during the party.
Outdoors
Kids entering the Cheyenne Botanic Gardens (botanic.org) have an opportunity to explore beautiful scenery, as well as to learn about how plants live. Children can roam the various plant collections and see species such as cacti and roses, or head to the Paul Smith Children's Village, where they'll see sustainable plant systems in action. Cheyenne's Lincoln Park is home to the Johnson swimming pool (no website; 812 1/2 House Ave., Cheyenne; 307-637-6239). This facility features a diving board, as well as a nearby lawn for outdoor events such as picnics. The pool hosts swimming lessons and can be rented for private use.
History
Kids can delve into Cheyenne's history at the Wyoming State Museum (wyomuseum.state.wy.us). Highlights for children include the Hands on History room, where kids can learn the history of Wyoming's people over the course of 12,000 years through interactive displays and gaze upon a life-size dinosaur skeleton. Museum staff are on hand to give lectures to school groups and teach kids about artifacts from Wyoming's past. In downtown Cheyenne, families can ride on a horse-drawn carriage during the summer months (no website; 121 W. 15th Ave., Cheyenne; 307-778-3133). Kids will have an opportunity to learn more about the area from tour guides, as well as to enjoy this unusual mode of transportation.
Photo Credits
Thinkstock/Comstock/Getty Images