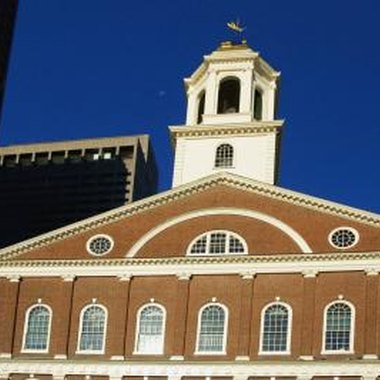 Since its construction in 1742, Boston's Faneuil Hall has been the site of speeches against British tyranny, a thriving marketplace and home to countless other events, both political and fun. Named after wealthy merchant Peter Faneuil, who paid for its construction, the building was later expanded in 1806. Faneuil Hall is featured on Boston's Freedom Trail tours and plays host to various events throughout the year.
Freedom Trail
Faneuil Hall occupies an importance place in Boston's history and is among the many landmarks that comprise the Freedom Trail. Children with even a passing interest in U.S. history will be entertained and informed as they walk in the footsteps of the Founding Fathers in places like Faneuil Hall, where the earliest seeds of the American Revolution were planted. Guides in 18th-century garb lead 90-minute tours year-round, though fewer tours are offered December through March. Among the other 15 sites on the Freedom Trail are the U.S.S. Constitution, Paul Revere's House, the Old North Church and the site of the Boston Massacre.
Chocolate Tour
Kids who love chocolate, as well as their parents, grandparents and anyone else with a sweet tooth, will enjoy the Boston Chocolate Tour, which includes a delicious stroll through the Faneuil Hall Marketplace. Boston Chocolate Tours also takes visitors through the Quincy Market Colonnade, the Bull Market and many of bakeries and cafes in Boston's North End. Along the way kids and anyone else who's interested can sample a wide variety of chocolate treats while learning everything from unusual stories from Boston's history to cooking tips all involving the world's most popular sweet indulgence.
Shopping
The Faneuil Hall Marketplace isn't like any mall the kids have back home. Sure, there are a few familiar upscale chain stores, but kids of all ages will get a kick out of such novelty shops as Sock it to Me, with the wildest socks and pajamas they can imagine; Funusual, which has unique games and toys for kids and some crazy gifts for grown-ups, too; Christmas in Boston, offering Boston-themed ornaments and other holiday items; the Best of Boston; and a Boston-themed Build-a-Bear, where kids can bring home a snuggly new friend, perhaps decked out in a Red Sox or Patriots uniform. In addition, dozens of pushcarts and kiosks are set up throughout the market selling everything from historical souvenirs to magic kits. The spectacle alone will keep kids interested.
Events
If you're planning a trip to Boston, check out Faneuil Hall's calendar of events to see if something special is planned. As you might expect, the July 4 holiday has plenty to offer, including the annual Harborfest, which kicks off at Faneuil Hall. Closer to Christmas, tree-lighting ceremonies and special holiday-theme events are held every year. Throughout the year, jugglers, magicians, street dancers and musicians offer daily entertainment, while periodic festivals feature antique cars or music. If you're visiting between May and October, don't miss the twice-daily Changing of Guard ceremonies, where performers dressed as British Redcoats re-enact the rituals from the days before American Independence.
Kids' Eats
From vendors in the Colonnade food market to full-service restaurants, Fanueil Hall offers dozens of kid-friendly places to eat, with many different cuisines featured. Kids will especially love the Boston Chipyard, a stand that features traditional chocolate chip cookies, as well as chocolate chip cookies made with mint chips, peanut butter or oatmeal. Kilvert & Forbes Bakeshop offers equally delicious treats and an even greater variety of cookies. Other fun choices for families and kids include Pizzeria Regina and MMMac & Cheese.
Photo Credits
Medioimages/Photodisc/Photodisc/Getty Images