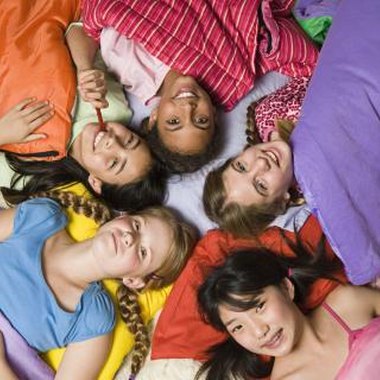 Slumber parties have been a tradition for boys and girls for years, and can be lots of fun for the host of the party and the guests. Some slumber parties can be an unpredictable experience for parents of the host, but a little preparation will help you throw a successful sleepover. There are a few things that should be done the day before a slumber party in order to reduce stress on the day of.
Food and Drinks
One main aspect of any successful slumber party is snacks. Buying all the food and drinks for sleepover guests the day before the slumber party will free up the day of the party for other preparations. Snack-type foods for late-night munching, and outdoor cookout foods or easy indoor foods are the easiest to prepare for a large number of guests. Because guests will be spending the night, breakfast foods will be needed for the next morning. Asking questions about any food allergies should also be done the day before the sleepover.
Clearing the Area
Slumber parties, especially for younger guests, require lots of room for games and sleep. Clearing the sleepover area the day before the slumber party will free up additional time on the day of the party. During a sleepover, kids often become hyperactive and sometimes tend to run around and get crazy. Because of this, relocating valuables and breakables to a safe location is never a bad idea. Taking care of these tasks the day before will ensure you don't forget on the hectic day of the party.
Preparing Party Favors
Some slumber parties are thrown to celebrate birthdays or other occasions. As with any party, party favors are often a nice way to thank guests for attending, even if the slumber party is just for fun and isn't a celebration of a specific event. Preparation of party favors can take some time, so it is suggested that this activity be started at least the day before the sleepover. Party favors can relate directly to an already-established theme, or to the sleepover itself. Personalized flashlights and disposable cameras to use throughout the night are great party favors for a slumber party.
Discuss the Plans
Clearly relaying house rules to slumber party guests is a way to help things go smoothly. Kids are naturally curious, so explaining the rules is helpful if certain areas of the house are off limits or dangerous. When throwing a slumber party for a child, or anyone of a young age, discussing plans and expectations the day before the party will help and eliminate any surprises or miscommunications.
Gather Supplies
During a slumber party, there should be many games and activities available for guests. These games can include board games, outdoor games, movies and more. Gathering these materials the day before the sleepover can be helpful in deciding what is still needed after the basics are covered. Scavenger hunts, bonfires, hide and seek and contests are all popular slumber party activities. Because most slumber parties last throughout most of the night, it is important to have many activities planned to occupy everyone.
Photo Credits
Jupiterimages/Brand X Pictures/Getty Images