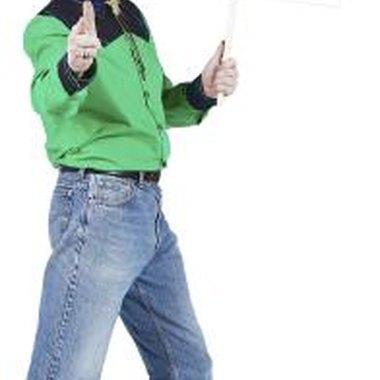 A party with a country-western theme marks a special occasion in an unusual way. The theme itself can be tailored to fit any age. In the old days, families got together for barn raisings and the occasional social. Eating and dancing were always a part of the festivities. A party with a modern country-western theme can incorporate some of these old traditions along with new ideas. Everything from wanted-poster invitations to tumbleweed and cactus decor can contribute to the theme.
Costume Contest
A themed party really wouldn't be complete without a costume contest. Have your guests come dressed as a classic country singer, such as Johnny Cash or Loretta Lynn. The Old West was also known for its outlaws and gunslingers; guests may want to impersonate Jesse James or Annie Oakley. Create several categories, such as most creative, most authentic or silliest, and give every one the opportunity to vote. If your guests consist of several ages, have a contest for kids and another for the adults. Offer small prizes in keeping with your theme.
Karaoke
Karaoke is a fun way to break the ice. Use country music as your theme and encourage your costumed guests to sing their country idol's greatest hits. Old favorites such as Hank Williams' "Your Cheatin' Heart" or "Hey Good Lookin" are fun songs that everybody can enjoy. Younger guest may be more familiar with some of the newer singers, such as Taylor Swift and Carrie Underwood.
Line Dance
Line dancing is another activity that everybody can enjoy. The steps are easy to learn and are usually a combination of well-known dance moves. The Electric Slide and Cotton-Eyed Joe are party favorites that are simple to learn. Line dancing is a good choice for the party atmosphere because dancers don't need partners and everybody has to work together.
Games
Play a round of horse shoes to add more authenticity to your country-western party. Hang a boot-shaped pinata for your young guests or help them participate in a game of Pin the Tail on the Donkey. The adults at your party may enjoy an old-fashioned game of poker. The Old West was just as famous for card games as it was cowboys and gunslingers.
References
Photo Credits
Hemera Technologies/PhotoObjects.net/Getty Images