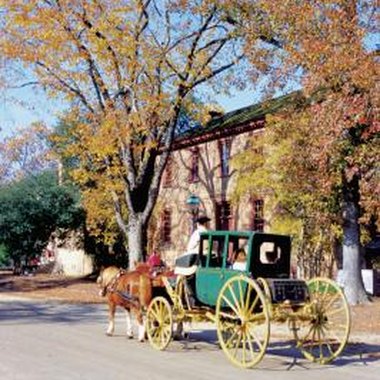 Williamsburg, Virginia offers travelers many points of interest, from Colonial-era architecture and history museums to kid-friendly attractions. When planning your trip to Williamsburg, start a couple of weeks to a couple of months in advance; some features require reservations, or are only seasonally available.
Ripley's
Kids or adults who love oddities will enjoy Ripley's Believe It or Not! Museum, which offers guests an exploration of the strange. The museum contains over 350 exhibits spread over 11 galleries -- such as a 10-foot piece of the Berlin Wall, as well as gruesome shrunken heads. The LaseRace attraction offers kids a way to burn off energy -- they compete to make it through a series of laser beam obstacles.
Colonial Willimsburg
Colonial Williamsburg is one of the premier educational sites in the nation. It is a collection of houses and businesses which date back to early settlement days. An adventure to Colonial Williamsburg doesn't begin and end at the site; the official web page also offers detailed information on many of the original residents, as well as articles on beauty, food and home care in the 17th and 18th centuries. After your visit to Colonial Williamsburg, stop for a bottle of Merlot at the nearby Fat Canary Restaurant.
Williamsburg Farmers Market
If you plan to visit Williamsburg between April and October, check out the local Williamsburg Farmers' Market, which features fresh local farm goods. Some of the 2011 offerings included fresh oyster and shitake mushrooms; fudge and cookies; fine goat cheeses; blueberry jams; flavored Virginia peanuts and lavender creamed honey. Before you go, browse the Williamsburg Farmers Market page for a variety of recipes to make from supplies at the market.
Williamsburg Winery
Situated on a large farm known as the Wessex Hundred, the Williamsburg Winery crushed its first grapes in 1987, according to the website. The winery offers several different tour options: you can enjoy a quick tour and wine tasting, or a deluxe selection of fine wines and cheeses. Other options include tastings with lunch and overnight "Escape Packages," which include hotel reservations at local Wedmore Place and a dining experience at Cafe Provencal.
Photo Credits
Medioimages/Photodisc/Photodisc/Getty Images