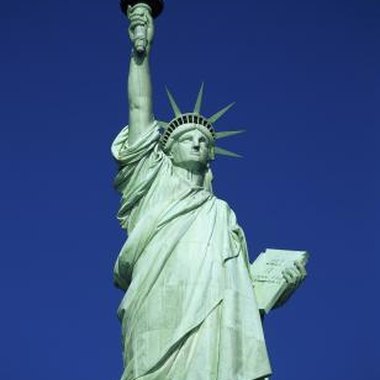 New York City offers you a world of opportunities for your anniversary celebration. Restaurants from Little Italy in Lower Manhattan to foodie hot spots on the Upper East and Upper West Sides invite you to romantic dinners. If you are looking for something more active, Manhattan is a great place for skaters, cyclists, rowers and walkers. The city also offers historic, romantic spots for sightseeing and, if the mood strikes, the opportunity to renew your vows.
Anniversary Dinner
You can find the latest, upscale foodie hangouts along Broadway on the Upper West Side or on Second and Third avenues on the Upper East Side. The world-famous Four Seasons hotel is a great place for a memorable dinner followed by a romantic carriage ride around Central Park. Elaine's is a famous hangout for movie and theater folk. Dinner cruises along the Hudson River are always popular. When planning an evening, be sure to do your research. Some dinner cruises may cater to one age group over another, and some restaurants require advance reservations.
Seasonal Fun
No matter when your anniversary, you can find some kind of seasonal activity to help you celebrate. In the winter you can skate at Rockefeller Center, two locations in Central Park and in Bryant Park near the New York Public Library. In the summer, consider kayaking around Manhattan either on your own or with a tour guide. In the fall, Central Park offers a colorful escape. Rent a bike or skates and cruise through the foliage on the weekend when the central road is closed to automobile traffic and opened to skaters, joggers and cyclists.
Do It All Over Again
No matter where you were married or how long ago, a romantic way to celebrate your anniversary is to renew your vows, especially in a location such as New York City. You can organize a civil ceremony just for you and your love or plan something bigger with friends. Some religious institutions will allow you to have a ceremony even if you are not a member of their congregation. Or plan a small ceremony with just the two of you and a justice of the peace in Battery Park, with the Statue of Liberty in the background.
Something Just For Your Partner
Regardless of your partner's hobby or special interest, you can find something to fulfill that niche in New York City. If your spouse is a photography buff, take her to the International Center of Photography's museum or a gallery exhibit. If she is more of a traditional art aficionado, you can take her to the Metropolitan Museum of Art, the Whitney Museum, the Guggenheim Museum and the Museum of Modern Art, just to name four. If your spouse is a history buff, take her to legendary Ellis Island, which is now a national park offering regular tours of the country's immigration history.
Photo Credits
Hemera Technologies/Photos.com/Getty Images