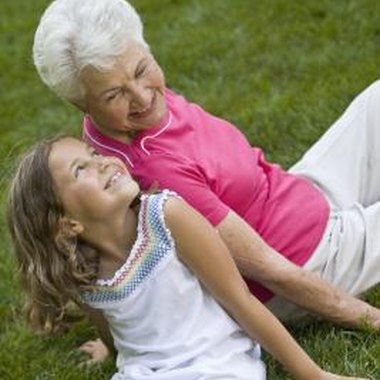 A grandmother and granddaughter hold a special relationship. A grandmother brings stability, safety and love to a granddaughter's life. This time should not be taken for granted, but rather filled with making lasting memories to create bonding. Participate in activities that are important to both grandmother and granddaughter.
Makeover
Host a girls' night makeover party. Gather some gentle make-up and plenty of tissue. Let the girls take turns applying make-up on each other. Allow each girl time to admire herself in the mirror and then wipe off and reapply for a different look. Comb each girl's hair into a different style and take pictures to share with their parents as a reminder of the night.
Visit the Zoo
Take your granddaughters on a trip to the local zoo. Turn the zoo visit into an educational trip by discussing and comparing each animal's habitat. Some zoos let visitors feed the animals or watch the zookeepers do the feedings. Take part in this to provide your granddaughters with a unique experience to remember the day.
Go On a Picnic
Pack up a picnic basket with your granddaughters' favorite foods and snacks for a picnic. Gather an over-sized blanket and cooler filled with fruit juice. Find a shady spot at a park or even host the picnic in your backyard. If the weather is rainy, have the picnic on your living room floor. Take this time to talk to your granddaughters and share stories.
Make a Scrapbook
Make a scrapbook to organize photos and share the family's history with your granddaughters. Let the girls choose scrapbook designs and backgrounds for the layout. Include pictures and memories of your time with your granddaughters and pictures of family events. Carefully place all photos in the scrapbook and document the events with dates and quotes to personalize.
Take a Nature Walk
Take a walk through town or a wooded trail to admire nature. During the walk, listen to various animals and try to match the sound to the animal. Collect leaves and flowers to use in a centerpiece. Give each girl a notebook to draw images or write impressions about the walk to share with each other at the end.
Photo Credits
Comstock Images/Comstock/Getty Images