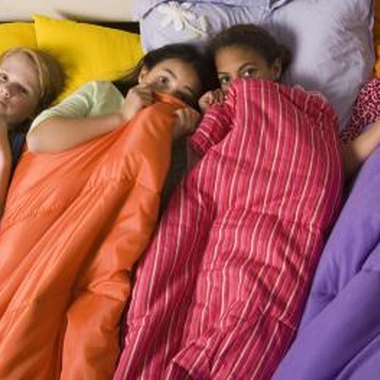 Your daughter peers anxiously out the window as she waits for her first slumber party guest to arrive. Meanwhile, you wrack your brain trying to come up with ideas that will keep a group of lively 10-year-old girls busy for the evening. The trick is to come up with ideas that will entertain them, aren't too difficult to execute and don't involve hiring a cleaning squad once the fun is over.
Spa Treatments
Have plenty of towels and headbands on hand for spa fun. Purchase a bag of emery boards and some wild-colored nail polish, and supply the girls with ready-made facial packets or let them create their own facials using a homemade recipe. Choose a location such as the kitchen or bathroom where you won't have to worry about nail polish spilling on carpet or good upholstery. You might be surprised at how adept young girls are at doing their nails or applying moisturizing masks. Even so, you might want to pop your head in the door every so often just to make sure things are running smoothly and no one is in need of assistance.
Craft Fun
Round up supplies for two or three crafts that the girls can participate in. Friendship bracelets are easy to make and quite popular among young girls. All you need to supply is a varied selection of embroidery floss or yarn, scissors and tape. The girls may already know how to make friendship bracelets, or you can find directions online. Other crafty ideas include painting mini-flower pots or creating custom jewelry with beads and elastic ribbon. If the girls paint flower pots; take it a step further by providing some small, inexpensive plants for them to place inside their pretty pots when they are dry.
Treasure Hunt
Chances are you are going to provide your party goers with things like DVDs to watch, games to play, potato chips, snackables and perhaps even party favors. Keep your party goers busy for an hour or so by using such items to create a slumber party treasure hunt. Once you've hidden the goodies throughout your house and property, give the girls a list with clues and watch them scramble off in different directions.
Slumber Party Tips
Plan party activities and food together with your daughter or whomever the young hostess is to be. Then on party day, make sure to get emergency contact information for each guest, and ask if there are any food or environmental allergies. When everyone has arrived, take a moment or two and discuss any rules or guidelines that the girls need to know about. For instance, no leaving the house at night under any circumstances and lights out by 2 a.m.
Photo Credits
Jupiterimages/Brand X Pictures/Getty Images