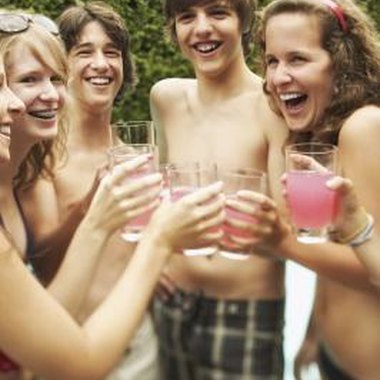 Boys who are turning 14 do not want to have a "baby party" with the same old games and themes. As your child grows up, so do the theme ideas for parties. Coming up with different games and even food to ensure your child is happy at the end of the day can be stressful, but it doesn't have to be. Try these ideas that will keep boys busy and satisfied.
Sports Party
Many boys like sports, whether they play them or just watch them. Make sports the theme of your son's birthday party. Make arrangements to have the party at a place where the boys can actually play some games. Look in your area for places where the boys can play paintball, hit some baseballs or play basketball, or hold a sports-themed party in your own home. Games can center around the different sports, such as trivia questions or even a football scrimmage among the boys at the party. Have all types of typical sports food at your sports-themed party, such as peanuts, popcorn, chili, chips or whatever else your child and his friends like.
Movie Party
Spend the evening at the movies when you plan a party for your 14-year-old boy. Plan to watch one of his favorite movies or a newer movie that just came out on DVD. Instead of making up goodie bags for the kids to take home, make up bags of candy they can eat while watching the movie. Have plenty of popcorn and drinks available as well. If possible, decorate the room to fit in with the movie theme. Look for posters, which you can sometimes purchase from the theater once the movie closes. Decorate or buy a cake that fits in with the movie theme as well. If you do not want to have the boys just watching one particular movie, choose several of the movies your son likes as the theme. Action figures and other items from the movie can be part of your decorating scheme.
Carnival Party
Have a full-fledged carnival for your son's birthday party. This might be a good party to combine with one for a friend of your son who also has a birthday around the same time, especially if the boys have a lot of mutual friends. Rent a cotton-candy maker and a popcorn machine. Fill small bags with popcorn so kids can walk around with them. Set up some carnival games and have prizes available for the winners. Games can include throwing a ring around a bottle. If there is enough space and it is safe, have a BB gun game in which kids can shoot at cans or water bottles. Instead of having a traditional cake, serve funnel cakes to the guests.
Summer Fun
If your son's birthday is during the summer months, celebrate summer and have plenty of games that will cool the kids off. Soak, fold and freeze T-shirts for the kids to unfold and put on, that they can then take home. Teach the boys about shaving by filling water balloons and spraying them with shaving cream. Have them try to shave the water balloons without popping them. They can work in teams, with one holding a large balloon and the other doing the shaving. Have an ice-cream cake for dessert instead of a regular cake.
Photo Credits
Jupiterimages/Brand X Pictures/Getty Images