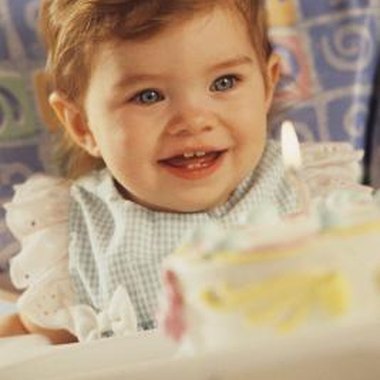 One-year-old birthday parties are a big deal for new parents, who often want to develop a fun theme for the celebration. Although most one-year-old children won't have opinions on party themes, parents can pick a theme that will make the party fun and exciting for the birthday girl, as well. Parents have many options for a girl's first birthday party.
Princess Theme
Princesses are loved by girls big and small. Although your one-year-old probably doesn't know what a princess is, she will enjoy looking back at pictures when she is older. Princess dolls and decorations can be purchased at almost any large retail store or party center. Purchase a cake that has a doll inside; the cake forms the skirt of the doll. Place a tiara on the head so it looks like a princess. Dress your daughter up in a tulle skirt so she looks like a princess, as well. Pony and unicorn decorations can help complete the theme.
ABC and 123 Theme
Although one-year-old children can't read, they are beginning to make sounds and form simple words. Give your daughter an educational theme by putting alphabet blocks and numbers all around the party space. Spell out her name with magnetic letters on the fridge or other metal object. Primary colors go well with this theme, so use red, blue and yellow balloons and streamers to help decorate. Have a cake made to look like the square alphabet blocks A, B and C.
Animals Theme
If your daughter has a favorite animal, either stuffed or real, make that the central theme of the party. For example, if she loves elephants, purchase elephant shaped balloons. Make or buy an elephant cake and decorate the room with little elephants. You can even throw the party at the zoo, near the elephant exhibit. If your daughter doesn't have any one favorite animal, make it a zoo, farm or Noah's Ark theme with many different animals.
Pink and Purple Theme
A birthday party theme can be as simple as a couple colors such as purple and pink. Have the cake frosted using those colors and find similarly-colored balloons, streamers, plates and cups. Dress your daughter in these colors and instruct guests to come in them as well. If you want to go all out, only serve food in those colors. Watermelon, grapes, strawberries, blueberries and blue corn tortillas are all good finger foods that are close to purple or pink.
Photo Credits
Comstock/Comstock/Getty Images