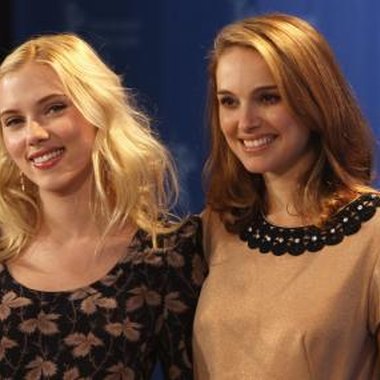 The term "historical fiction" is a sort of oxymoronic category for movies that tell the truth, but not the whole truth, and without the help of God. "The Other Boleyn Girl" fits in this category. Based on the novel by Philippa Gregory, the movie shows the unfolding drama between the historical characters King Henry VIII, his wife Katherine of Aragon, Mary and Anne Boleyn, and more.
The True Story
While the movie can't rightfully be called a "true story" in the sense that it sticks strictly to the facts as they are known, it is, nonetheless, based on a true story. There really was a King Henry VIII who had sexual affairs with both Mary and Anne Boleyn, and who really did create another church -- the Church of England -- separate from the Catholic hierarchy so that he could divorce his wife, Katherine of Aragon, and marry Anne.
The True Anne Boleyn
The feisty rebelliousness in Anne's character was as true in real life as in the movie. The PBS article "The Six Wives of Henry VIII" notes that Anne had a fiery temper that she never learned to control. She put some of her passion into pushing for reforms within the Catholic church, which manifests in the movie when Anne urges Henry to break away from the Roman Catholic Church's' grip when Pope Clement VII refuses to annul Henry's and Katherine's marriage.
The True Mary Boleyn
Mary had a relationship with Henry while still married to William Carey. Mary had two children during her affair with Henry, but, says Philippa Gregory, these were never confirmed as Henry's children. However, in "The Other Boleyn Girl" novel, Gregory portrays Mary's children as being fathered by King Henry, based on the reasoning that the king would not have shared his mistress -- even with his mistress's husband.
Movie and History Trivia
Some details in the movie, such as Anne asking her brother, George, to have sex with her, can't be confirmed by known history. Anne also wielded more power than she appeared to: Several important people were executed because they didn't like her or disagreed with her, including John Fisher, bishop of Rochester, and Sir Thomas More, the king's former friend and adviser, who were both beheaded because of Anne's influence.
Photo Credits
Sean Gallup/Getty Images Entertainment/Getty Images