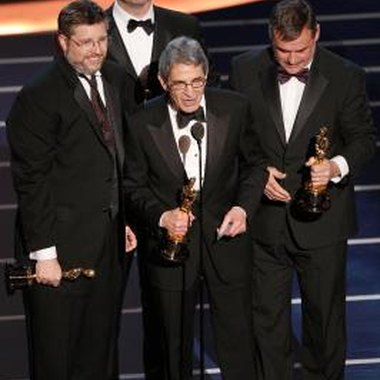 "The Golden Compass," the film adaptation of the first novel in Philip Pullman's His Dark Materials trilogy, was released in 2007. The movie featured a host of well-known actors in supporting roles but an unknown child actress in the lead.
Plot
"The Golden Compass," also known as "Northern Lights," is set in a parallel universe. It focuses on a young girl, Lyra Belacqua, who has to travel to the far North to save her friend Roger from the mysterious Magisterium organization. Along the way she enlists the help of a variety of magical characters, including an armored polar bear called Iorek Byrnison and a witch, Serafina Pekkala.
Cast
Thousands of girls auditioned for the role of Lyra. The part went to Dakota Blue Richards and was the 12-year-old's first professional acting role. Daniel Craig was cast as Lord Asriel, Lyra's mysterious uncle, and Nicole Kidman joined the film as the main antagonist, Marisa Coulter. The supporting cast included Eva Green as the witch Serafina, and Ian McKellen, who voiced Iorek Byrnison.
Filming
The film was adapted and directed by Chris Weitz, whose previous directing credits include "About a Boy." Filming began in September 2006 at Shepperton Studios and Oxford, England, as well as locations in Switzerland, Norway and Canada. The special effects for the film were created by several companies, including Rhythm and Hues Studios, Framestore CFC and Cinesite.
Box Office and Critical Reception
The budget for the film was approximately $180 million. It took in $372.23 million worldwide at the box office. Reviews were mixed. James Christopher of the The (London) TImes described it as a "spectacular shambles." Manohla Dargis of The New York Times, although impressed by the visual style of the film, bemoaned its rushed pace. The film was nominated for two Academy Awards, winning for Best Achievement in Visual Effects. .
Controversy
Fans of the books said that the film diluted the themes of the rejection of religion and the abuse of power within the church that are in the original work. Weitz said New Line Cinema had been concerned the inclusion of such themes would make the film financially unviable in the United States. However, the Catholic League still called for a boycott of the film, saying it encouraged atheism in children.
Photo Credits
Kevin Winter/Getty Images Entertainment/Getty Images