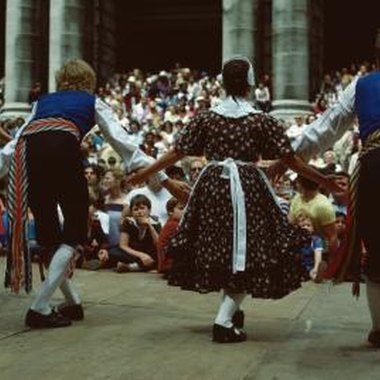 French dramatist Pierre Carlet de Chamblain de Marivaux wrote the play "The Game of Love and Chance" ("Le Jeu de l'amour et du hazard") in 1730. The author of at least thirty plays, he was not particularly appreciated in his own time, due to his emphasis on strong female roles, but received more recognition in the mid-20th century. His plays were enthusiastically attended when performed by the Comedie Francaise as well as in London and New York.
Background
"The Game of Love and Chance" is set in 1700s France. Although heroic tragedies were popular in his time, Marivaux concentrated his considerable talents on comedic love stories and their endless nuances. In "The Game of Love and Chance" Marivaux depicts the vagaries, misunderstandings and assumptions made by those who are falling in love. He depicts love as the ultimate gift given to those who are pure of heart.
Characters
"The Game of Love and Chance" introduces the charming Silvia, an independent young woman of nobility who is engaged to her handsome fiancé Dorante, who visits Silvia with his valet Arleguin. Monsieur Orgon, Silvia's father, and Mario, her brother, play major roles in the story as do Lisette, Silvia's confidente, and another male servant.
Plot
This entertaining comedy begins with Silvia's dilemma of being engaged to a man she has never met. Her fears as to the true nature of his character prompts her to ask her father, Monsieur Orgon, to allow her to pretend to be a servant so that she can better determine whether Dorante is a man she would be willing to marry. Unknown to her, Silvia's fiancé has similar misgivings and receives permission to meet her disguised as a servant as well. Both fathers decide to let "chance" decide whether the couple will fall in love.
Conclusion
"The Game of Love and Chance" is delightfully written to reveal the inadequacies of the servants playing the masters and the masters playing the servants. When Silvia learns that Dorante loves her, and he admits his disguise to her, she declines to reveal her own true class and decides to test him further. She tests the limits of his love by requesting he renounce his fortune to marry her. Of course, love conquers all and the servants fall in love with each other, as do the nobility, and in the end a double wedding is performed for both sets of socially appropriate partners.
Photo Credits
Photos.com/Photos.com/Getty Images