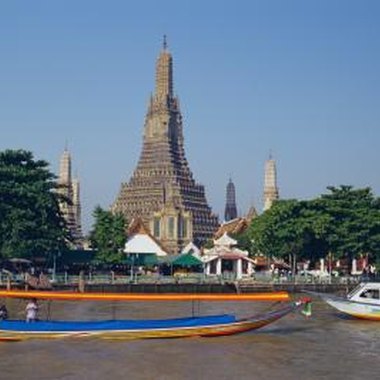 Thailand is the phoenix of travel destinations. Despite tsunamis, floods and political unrest, the country always rises from its ashes, creating an unmatched travel experiences for its visitors. Its resort managers elevate the travel experience to an art form, providing memorable experiences such as Thai cooking classes, cultural workshops, animal interaction and special programs for children.
Urban Resorts
The sense of peace and tranquility that characterizes most of Thailand is nonexistent in Bangkok. Its ultra-modern skyscrapers sit next to ancient temples, creating an alarming, if not interesting, visual experience. Meanwhile, traffic jams and a vibrant, noisy nightlife assure you that you are in Thailand's most urban destination. The Mandarin Oriental Hotel is a peaceful oasis amidst the chaos. This resort hotel has an Ayurveda Penthouse and a full-service spa. The hotel offers daily yoga and cooking classes, as well as Thai cultural tours. The Mandarin Oriental, Bangkok boasts its own tennis courts, squash courts, jogging track and swimming pool. Special children's programs are available. While taxis, trains and buses provide transportation, water taxis provide a more pleasurable experience. The Navalai River Resort, located near the Chao Phraya River, is within walking distance to the water taxis. This hotel offers rooms with four different types of decor, which include artist themes, Thai lifestyle, colonial influence and Rattanakoskin heritage. The hotel has a spa and swimming pool on the premises.
For Animal Lovers
Phuket, an island in southern Thailand, is known for its snorkeling and scuba diving. Wildlife lovers should visit the Phuket Gibbon Rehabilitation Center, located in the Khao Phra Thaew Forest Reserve. Some resort hotels, such as Le Meridien Phuket Beach, also take responsibility for wildlife by adopting local animals as pets, thereby protecting them from poachers. Sawadee, the resident baby elephant, greets visitors with a kiss, appropriate for an animal whose name means "hello." The resort has a full-service spa and fitness center, as well as a golf course. Guests can book day cruises on the Margaret Lee, originally built for the Royal British Air Force in 1932. Le Meridien also has a resort in Khao Lak, which features a small zoo. Here's an insider's tip for Starwood Rewards members. Le Meridien is a Starwood Hotel. If you have extra points, consider upgrading to a villa. These private residences form a necklace around a swan-inhabited lagoon. Guests get a personal butler who delivers your morning coffee, helps you pack and unpack, and makes your dinner reservations. Some rates include a lavish buffet breakfast and late-afternoon high tea.
Film Locations
Thailand served as a location for many well-known films. "The Beach" was filmed on Ko Phi Phi. The Arayaburi Resort, located on Phi Phi Island, boasts 65 large, individual villas perched on hilltops that overlook the Tonsai Bay. Gardens and a rain forest surround the resort, which offers water sports, a spa and fishing excursions. Part of the remake of "Around the World in 80 Days" was filmed in Krabi, as was "Star Wars: Episode Three." The Krabi Tropical Beach Resort has direct access to the beach. Guests may use the bicycles and kayaks at no extra charge. The resort offers boat and kayak excursions. Some rooms have full kitchens, and breakfast is included in some room plans.
Romantic Resorts
All of Thailand is conducive to romance, but The Racha, 12 miles from Phuket, offers a private island getaway for couples wanting to escape the maddening crowds. In 2004, Conde Nast Traveler listed this ecological hotel as one of the best new hotels in the world. Its 70 villas offer views of the Andaman, and the spa has special couple's treatments.
Photo Credits
Jupiterimages/Photos.com/Getty Images