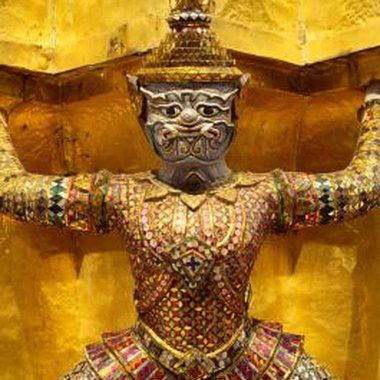 Home to more than 100 national parks and located in the heart of Southeast Asia, Thailand showcases miles of beaches, scores of ancient Buddhist temples, abundant exotic geography and outstanding cuisine, presenting a compelling destination for those seeking beauty and adventure. Distinctive animals and sea creatures abound, too, including monkeys, bears, elephants and whale sharks. Visitors to Thailand find a number of fine resorts tp accommodate them comfortably.
Laguna Phuket
More than 1,000 tropical acres, including beachfront Ban Tao Bay, on Thailand's west coast, play host to Laguna Phuket resort, one of the largest properties in Thailand. With seven hotels and villas, corporate centers, an 18-hole golf course and spa facilities, the complex is like a small city, catering to families, leisure or business guests. With 30 restaurants, bars and cafes, visitors can access excellent Thai cuisine amidst a relaxing lifestyle.
Pimalai Resort & Spa
Near Lanta Marine National Park, with its diverse array of wildlife, this hotel and resort is built on 100 acres of beach framed by rain forest. The luxury amenities include high-end appointments such as teak flooring, contemporary tropical furnishings, bamboo accents and high-thread count linens. All rooms have private balconies and air conditioning. Guests favor the Pimilai Resort & Spa for its proximity to scuba diving, swimming and snorkeling.
Kamalaya Koh Samui
Kamalaya Koh Samui is a health- and wellness-oriented resort where guests can access detox therapies, yoga, fitness programs, stress release programs, fitness classes and naturopathic medicine. The resort caters to both those guests seeking wellness experiences as well as those merely looking for luxurious accommodations. Situated at the site of a former Buddhist monk's cave, the resort rests in a fitting setting for a meditation center and spiritual retreat.
Rocky Resort
Secluded Rocky's Boutique Resort features samui-style lodging right on the beach with full views of the Gulf of Thailand. With 47 bungalows and three villas, the resort is within walking distance to downtown Lamai. The resort is outfitted with two swimming pools, a large deck and poolside lounge and is about five minutes from Chaweng Beach with its friendly people and lively shops, bars and restaurants.
Photo Credits
Jupiterimages/Photos.com/Getty Images