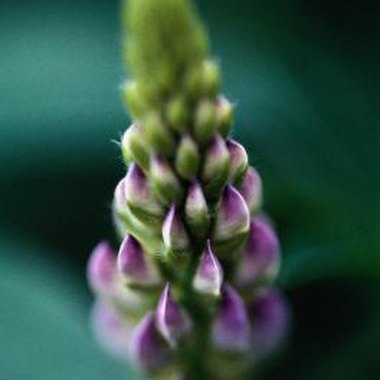 Since 1901, the bluebonnet has been the state flower of Texas. A wildflower, found alongside roadways and open fields in Texas from March through May, the bluebonnet is a lupine with dark blue flowers that grow in clusters on the top 2 to 6 inches of the stem. Its upper petal has a white center that turns almost purplish as the plant matures. Obtaining a height that ranges from 8 to 24 inches, you can see them from a moving vehicle.
Step

1
Scarify the bluebonnet seeds before planting to promote faster germination. Without scarification, it can take one to two years for them to germinate because of the hard outer shell of the seed. Scarification is the process of "roughing" up the seed to allow water to penetrate easier and promote germination. Accomplish this by slightly nicking the seeds with a knife, suitable for small quantities of seeds, or rub them with sandpaper. Another method of scarification is to freeze the seeds overnight and then pour boiling water over them in the morning and allow them to soak for many hours.
Step

2
Find an area in which to plant the flowers. The site should have full sun and well-drained soil. If you want to intersperse the bluebonnets in existing vegetation, mow the vegetation down to a height of 6 to 8 inches. Remove any debris or vegetation left behind. Thatch the area thoroughly and open up some bare areas in which to scatter the seed. For bare ground seeding, till the soil lightly so the seeds make good ground contact.
Step

3
Plant the seeds in the autumn, preferably in September or October, but no later than mid-November. Broadcast the seed by hand, 1 oz. per 200 square feet. For a smaller display, plant eight to 10 seeds per square foot. After you have finished spreading the seed, tamp it down with your hands or by walking on top of the seeds to press them into the ground. Lightly cover the seeds with soil to promote germination.
Step

4
Water the seeds infrequently during the winter to promote springtime germination. Averse to saturated ground and very drought resistant, they respond best when only lightly watered.
Photo Credits
Ryan McVay/Photodisc/Getty Images