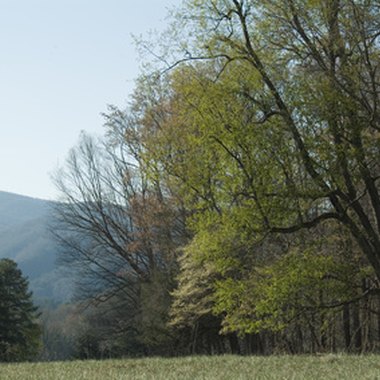 Visitors planning vacations around Tennessee natural attractions such as the Great Smoky Mountains and the mighty Mississippi do not need to plan on roughing it at a campground as well. Many of the parks within the Tennessee state park system offer rental cabins ranging from rustic outposts in the forests to luxury villas overlooking rivers and lakes.
Types
Rental cabins are available at 20 Tennessee state parks, mostly in western and central Tennessee. Although specific cabin designs vary greatly between parks, Tennessee's park system rates its cabins by amenities in three categories. Type A cabins are the most basic, with one or two bedrooms, a living room and a kitchen. These lack air conditioning and telephones, and as there is no maid service, guests are required to do their own cleanup. Deluxe cabins of the AA and AAA type might have phones, air conditioning, or both. Villas are two- or three-bedroom units with air conditioning, heat, phones and cable TV, but still no maid service. In addition to these cabins, some state parks have cabins that are not rated.
Cumberland Mountain State Park
Situated in east-central Tennessee, Cumberland Mountain State Park is about halfway between Nashville and Knoxville. The park's cabins are in the woods overlooking Byrd Lake, directly across from the park lodge. A footbridge connects the cabin area to the lodge, with the lake's boathouse adjacent to the bridge. Most of the cabins are rated A through AAA, with two special cabins also available. The Coon Hollow Cabin is a three-bedroom, two-story cabin with central heat and air, while the Mill House can accommodate up to 16 people. All cabins with two bedrooms or more have a fireplace, with firewood included from October through April.
Paris Landing State Park
Paris Landing State Park is in western Tennessee on the banks of that part of the Tennessee River that has been dammed into Kentucky Lake. The park has 10 cabins of the villa type, all on a peninsula jutting into the lake. That location separates the cabin area from the busiest part of the park, where the marina, park inn and sporting courts are, thus creating a more secluded feel. At the same time, the cabins are just down the road from the park's 18-hole golf course.
Roan Mountain State Park
This state park sits in the shadow of the 6,285-foot Roan Mountain, nestled deep in the fastness of the mountains of eastern Tennessee. Roan Mountain has 30 AAA one-bedroom cabins, each with a wood-burning stove and a front porch with rocking chairs. Free firewood for the cabin stoves is provided by the park. The park's cabin area is situated along the Doe River, just down the road from the recreation center and park headquarters.
Photo Credits
dogwoods blossoming image by Jorge Moro from Fotolia.com